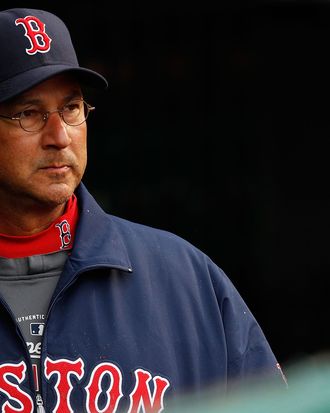 Photo: Jared Wickerham/2011 Getty Images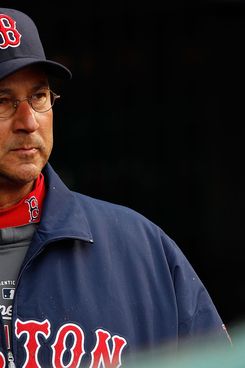 "I think it's great. I wish we were hockey. I don't like hockey, but the more teams the better." —Terry Francona, on the possibility of an expanded Major League Baseball postseason for 2012, via Pete Abraham
1. Hockey is awesome, Terry. Give it a look sometime.
2. As Big League Stew has already pointed out, more playoff teams means more clubs that can look like relative successes at season's end — good news for the managers and GMs who surely appreciate the job security that accompanies looking like relative successes. But — not to make this all about the Red Sox manager — Francona's job seems to be pretty safe. So instead we'll note that the teams most likely to benefit from such a change would be the ones that are consistently good, but not necessarily good enough to win the division every year — basically, teams like the Red Sox, who most years would already compete for at least the Wild Card, and now would have another chance to clinch a spot.
3. It's an interesting time for the possibility of expansion to make the news again, since sports fans in many cities — New York, for example — are cheering on teams that wouldn't have made their league's postseasons if even five teams from each conference earned a berth. We like the baseball playoffs just fine as they are: Division races still usually mean something, the Wild Card has achieved its goal of making late-season baseball relevant in cities that have good teams that won't win their division, and the playoffs still remain exclusive enough that a berth retains meaning in a way it doesn't in other sports. Yet, having said all that, we wouldn't be watching the Knicks or Rangers in the playoffs right now — in leagues of comparable size — if the playoffs were more exclusive.
We've always been wary of diluting the baseball playoffs any further. But Francona's point speaks to the fan watching a No. 6 seed in the playoffs right now: If you strip away the financial considerations (if just for the purposes of getting to the core of his point), and the concept of exclusivity, more teams in the playoffs means more fans that get to watch their teams in the playoffs, and and in turn, more fans whose teams have a chance to win a title. Does expanding the playoffs — particularly if it's expanded by more than a one-game Wild Card playoff — hurt the balance between a relevant regular season and an exclusive, meaningful postseason? We still say yes. (And who knows how they'll work out the logistics of scheduling additional playoff games. Earlier Opening Days? A return to November World Series games?) But we'd be lying if we said we weren't enjoying the NBA's and NHL's playoffs right now. (And remember that Jets playoff run last year? A more exclusive playoffs might have made the regular season more meaningful, but it also might have meant the Jets, who'd wind up as the No. 6 seed, wouldn't have even qualified for the playoffs.) So maybe we'd grow to like — or at least accept — a ten-team baseball postseason. We may not have much of a choice.