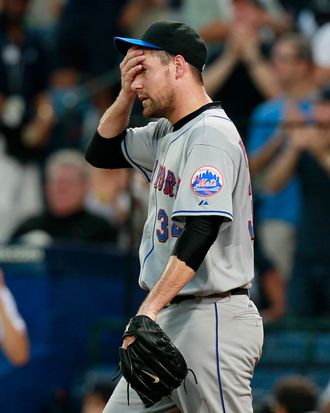 Photo: Kevin C. Cox/2010 Getty Images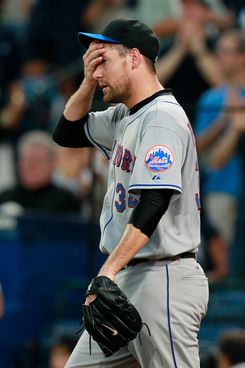 The good news for the Mets last night? After falling behind 7–0 to the Phillies after three innings, they fought back and tied the score. The bad news? They'd go on to lose anyway, by the score of 10–7. But the really bad news? Mike Pelfrey got lit up in his two-plus innings of work — his second straight poor outing — giving the Phillies that seven-run head start.
This one was worse than Pelfrey's Opening Day outing, during which he allowed five runs in four and a third innings. His line last night (completed when Taylor Buchholz allowed all three runners he inherited from Pelfrey to score in the third): seven runs, six earned runs (the error was Pelfrey's), five hits, and four walks. Needless to say, these are not acceptable numbers for a team's ace, fill-in or otherwise. To quote Amazin Avenue:

You could call this one a moral victory, although that probably says more about where the Mets have been than where they are or where they're going. The turd in the punchbowl here is Pelfrey, who, in this admittedly young season, has looked just plain awful. Not missing bats, not challenging hitters, not displaying the kind of pitching smarts you'd expect from someone who is now in his sixth major league season. It's probably not fair to say he's no longer the Mets' #1 pitcher just yet (if such a designation means anything), but that discussion will start before long.
Perhaps there's a mental aspect to his struggles — that being named the team's ace with Johan Santana on the disabled list was too much pressure. Or perhaps it's a flaw, not so much in his mechanics but in his approach. During the post-game show last night, Keith Hernandez suggested that Pelfrey was too amped up on Opening Day, and his overthrowing kept his sinker from properly sinking. And last night, Hernandez said, he went too far in the other direction, backed off too much, and instead threw too many lazy sinkers (and lazy splitters, etc.). So perhaps Pelfrey needs to find a middle ground, like Goldilocks in search of the perfect bowl of porridge.
In the meantime, the trade speculation has already begun. Perhaps a repeat of last year's April — during which Pelfrey went 4–0 with a 0.69 ERA — was too much to ask. But expecting a start better than this really isn't, is it?