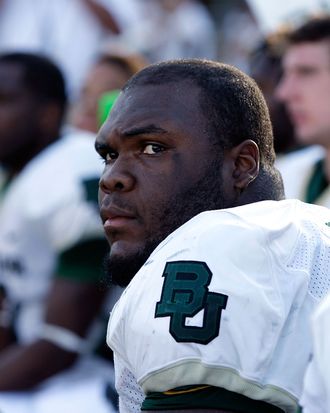 Photo: Jamie Squire/2009 Getty Images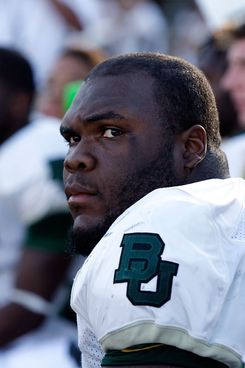 Earlier today, we took a look at who the Giants might take tomorrow with the nineteenth overall pick, according to various mock drafts. And so as promised, here's what those same mock drafts predict the Jets will do with the 30th pick. And not that it really needs to be said, but take these for what they're worth, since they are, in essence, educated guesses. (Just as none of these nine guessers picked the Giants'$2 2010 first-round selection, none had predicted the Jets would take Kyle Wilson last year when we checked in on them two weeks before the draft.) In any case, on to the (defense-minded) picks!
Jarrett Bell, USA Today: Marvin Austin, DL, North Carolina
DraftAce.com: Brooks Reed, OLB, Arizona
FFToolbox.com: Akeem Ayers, DE, UCLA
TheFootballExpert.com: Justin Houston, OLB, Georgia
Mel Kiper Jr., ESPN: Cameron Heyward, DE, Ohio State
Pat Kirwan, NFL.com: Justin Houston, LB, Georgia
Todd McShay, ESPN: Phil Taylor, NT, Baylor
Shutdown Corner/Yahoo: Phil Taylor, NT, Baylor
WalterFootball.com: Phil Taylor, NT, Baylor
Also, should any Jets fans want to attend this thing in person — if only to get on-camera should they not approve of the selection — all the info you'll need about lining up and getting in can be found right here.