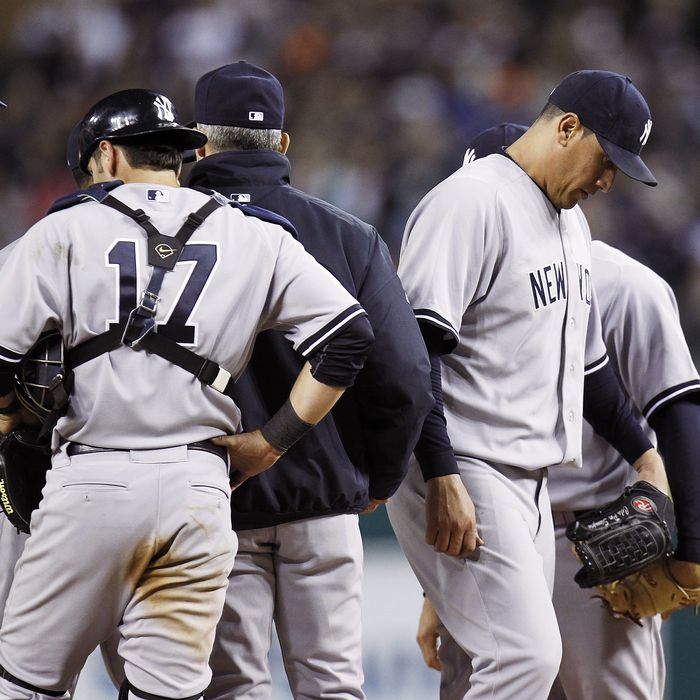 Photo: Gregory Shamus/2011 Getty Images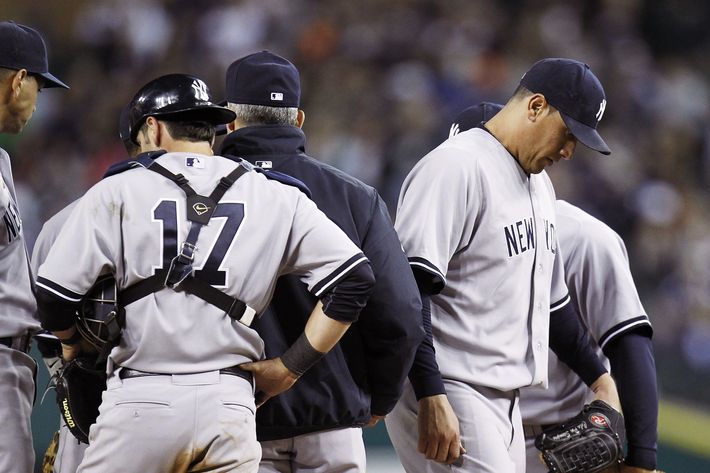 Sometimes, the nature of an injury isn't known because doctors aren't really sure what's wrong. And sometimes, the nature of an injury isn't known either because the injured party won't say anything about it (or maybe because there isn't even an injury to tell about). The Yankees are familiar with both.
In the case of the former — the injury that doctors haven't really figured out — Brian Cashman said before last night's game that Phil Hughes will miss at least another six to eight weeks. First he'll rest for two weeks, and then he'll start a throwing program. (Will Carroll, quoting a doctor he spoke with before the plan for Hughes was even announced, referred to such a plan as a "reset.") Hughes, for his part, got a cortisone injection on April 28 and says he feels "110 percent" better. (Officially, he's out with right shoulder inflammation.) Cashman and Girardi consider this encouraging news; at least he doesn't have thoracic outlet syndrome, the logic must go. So be encouraged by Cashman's words, if you choose: "I can't tell you we're through the woods yet. But my understanding is he believes the shot will do the trick, or has done the trick, and it will just be another two weeks of rest before we can turn him loose."
Meanwhile, Joe Girardi pulled Derek Jeter after seven and a half innings last night, saying that Jeter's right hip " was grabbing at him a little bit." The string of quotes in this news report is actually kind of amusing. First there's Jeter, saying you'd have to ask Girardi how he knew his shortstop would have to leave the game. Then there's Girardi, saying that Jeter told him it was bothering him. Then there's Jeter again, saying that he didn't tell Girardi anything, and that he doesn't know how he found out. (Then, in response to what it is he found out: "I don't know.") Jeter says it's not an injury, and that it's not a big deal — though Jeter isn't one to offer up injury information about himself. Girardi says Jeter is day-to-day. (Update: Jeter's not in this afternoon's lineup.)
And in between all of this, the Yankees lost a baseball game, 4–0 to Detroit. If Tuesday they lost, in part, because of what they did on the basepaths, last night they hardly ever had the chance: Max Scherzer cruised through eight innings, allowing just four hits and two walks, striking out nine. Freddy Garcia, meanwhile, allowed four runs in the first three innings but then settled down a bit, in all giving up ten hits over seven innings. On some nights, the Yankees' offense — fourth in the American League in runs despite several regulars who are off to slow starts — will score enough to win a game like this. Last night wasn't one of those nights. Not even close, really.