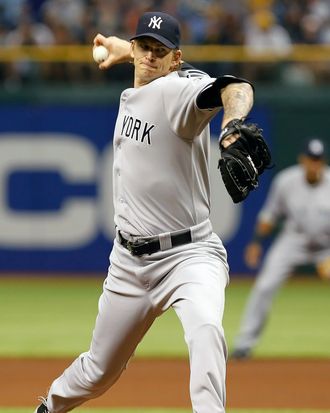 Photo: J. Meric/2011 Getty Images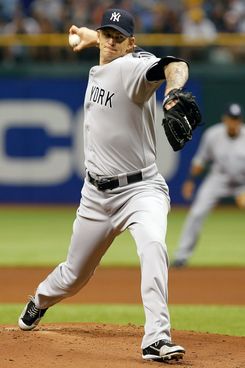 It's really just the latest development in a week of lousy developments, but last night, in the bottom of the sixth inning, with the Yankees leading the Rays 5–1, we witnessed the reappearance of Bad A.J. Burnett. Over the season's first month and a half, we hadn't seen much of Bad A.J. Just last week, in his most recent start — a no-decision against Kansas City in which he allowed just one hit over seven innings but walked five and hit a batter — we noted that Burnett had done a good job of avoiding a big inning, even after allowing a couple of base-runners.
Burnett had been pitching just fine last night, as well, even getting out of a jam in the second inning. Then the sixth inning happened, and it was one of those classically bad Burnett innings where everything unraveled: a double, a home run, two straight outs, an infield hit, a wild pitch, an RBI single, another wild pitch, and another home run. By the time Burnett got the hook, he'd turned a 5–1 Yankees lead into a 6–5 Yankees deficit.
Of course, it's one bad inning, during a season in which Burnett has thus far pitched as well as the Yankees could have hoped. Then again, Burnett impressed through May last year as well before his season took an ugly turn. With most pitchers, writing off one bad start, and especially just one bad inning, isn't very difficult. With Burnett, we've been trained to fear the worst.
It's a shame, too, because the Yankees were on their way to what would have been an encouraging victory, scoring five runs off David Price and knocking him out of the game after just five innings. The first two Yankees runs came on a bases-loaded single by Eduardo Nunez (who, we'll note, also picked up his sixth error in sixteen games). And the other three came on yet another Curtis Granderson home run — his fourteenth of the season, and even more impressively, his seventh against a left-handed pitcher. (Via Fangraphs, he'd hit just twenty home runs against lefties in his entire career entering this season.) Of course, plenty of Yankees are still struggling: Derek Jeter, Mark Teixeira, and Alex Rodriguez went a combined 0-for-11 last night; they're batting .255, .252, and .242 respectively. (Rodriguez looks especially lost right now; he struck out three times last night.)
And as if to add one final insult to the proceedings, Kyle Farnsworth — who's having a very good season but will always be Kyle Freaking Farnsworth to Yankee fans — earned the save with a perfect ninth inning, needing just eight pitches to do so.