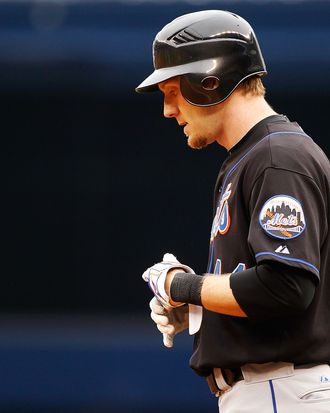 Photo: Mike Stobe/2011 Getty Images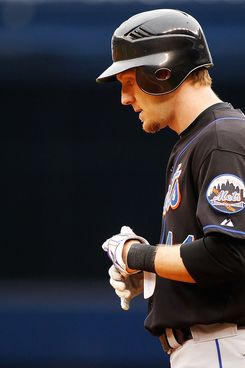 The Cubs drilled the Mets 11-1 at Wrigley Field last night, but you don't really want to read about that, do you? What could possibly be the point? Jason Bay went out with an injury, but it turns out he's fine and will be in the lineup tonight. Last night was another loss in a season that doesn't matter, ending an era that's almost — so close — over now. And that is important to remember.
It has been seven months since Sandy Alderson took over as the Mets general manager, and it's of note that all the bad news that Metsland has suffered has been a direct byproduct of matters occurring before his hiring, rather than after. (With the possible exception of Brad Emaus.) The injuries, the owner sniping, the low attendance, the general snakebit vibe … this is what happens when your franchise has suffered through the worst five-year stretch imaginable and is apparently "bleeding" money. We've said it before: This is a wait-and-see season, here just to be survived by fans until the real fixing can be done. We knew this year would be painful. Perhaps not this painful, but painful.
But still: The team is only three games under .500; all the true ugliness is happening off the field. If this were any other franchise, with any owner and any other media collective, we might all be looking at the Mets as they are — a rebuilding franchise still figuring out what it has and what it doesn't. Alas: Fred Wilpon, and a media maw of which we're certain not a single person has read the whole Jeffrey Toobin piece yet, has altered our gaze.
Perhaps realizing that the narrative is going even farther afield than anticipated, Alderson finally talked yesterday, though, sadly, he did not say, "Chillax, y'all."
"Everyone was surprised by the comments, but there is nobody who is more passionate about the Mets, or has more empathy for the players, than Fred," said the GM, who signed on last winter.

As much as we wish everyone would just take a deep breath, realize that the Mets' "disaster" is one that merely needs time and money — both of which are coming — to fix, and as much as we're sure Alderson would love people to realize that, this is the job Alderson took. Still: At this point, he should remain the behind-the-scenes guy, pulling all the strings, fixing all the problems, and letting all of us remain in the scrum. He's still in his honeymoon period. What a fun honeymoon period this must be.