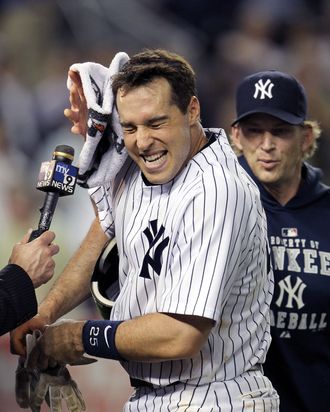 Photo: Michael Heiman/2011 Getty Images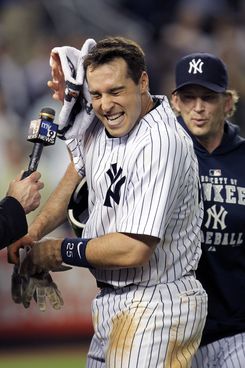 Each game the Yankees win these days distances them a little bit further from the unpleasantness of last week's Jorge Posada drama — an unpleasantness that coincided with the tail end of a six-game losing streak. The Yankees have won six of their last eight games, and the city's tabloid obsessions are now focused on the team across town. Still, some wins are just a little bit sweeter than others. Last night was one of those.
The Yankees fell behind 4-1 in the fourth, then scored two in the eighth and two more in the ninth to win. But how they did it is equally encouraging. Take CC Sabathia, who after that fourth inning didn't allow a baserunner, retiring the final sixteen batters he faced in a complete game. (It was the Yankees first complete game since Sabathia threw one on May 18, 2009. That's 341 contests between complete games — an American League record.) Or take Curtis Granderson, the Yankees' MVP to this point, who last night collected four hits, including one to tie the game in the ninth inning. (He'd then steal second, and score the winning run on Mark Teixeira's single off of Juan Rivera's glove.) Or take Posada, whose pinch-hit double started the ninth inning rally.
Which isn't to say that everything's fine: Rafael Soriano's been shut down and (uh oh) will visit with Dr. James Andrews. And in his return to the lineup last night, Nick Swisher went hitless again, dropping his batting average to .208. Still, last night was one of this team's best. Said Jorge Posada: "It's a good feeling in the clubhouse." That's nice to hear, isn't it?