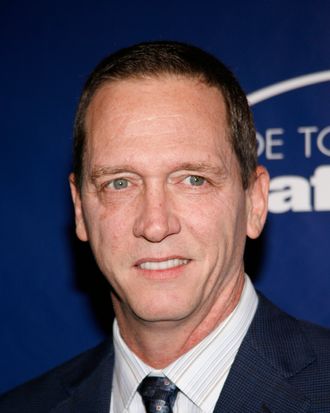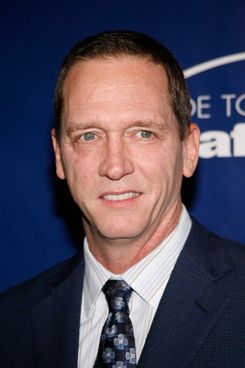 David Cone won five World Series rings in his seventeen seasons in the majors — his career included time with both the Yankees and Mets — and this year, he returned to the YES broadcast booth, where he'll work about 30 to 40 games as one of the network's analysts. This week, he's promoting New Era's "Stars & Stripes" initiative, in which all 30 Major League teams will wear "Stars & Stripes" caps on Memorial Day, as well as on the Fourth of July. (Proceeds from the sale of each cap — as well as all proceeds from the sale of a one-of-a-kind Bourget motorcycle that will be auctioned off on Veterans' Day — go to the Welcome Back Veterans fund, which supports wounded soldiers and their families.) Cone spoke with The Sports Section about his interest in advanced statistics, when he knew he'd started to lose it as a pitcher, and why he can finally ride a motorcycle.
One of the things I appreciate about your work on YES is that you seem comfortable talking about advanced statistics. Is that something you were into during your playing days, or is that something you got into once you stopped playing?
You know, it's something I got into more when I stopped playing. I'm a little jealous that I didn't have this sort of data when I was playing. We just kind of relied on written scouting reports through the eighties and even the early nineties. I've really been amazed by some of the data that's out there, especially with regards to tendencies of hitters, and certainly tendencies of pitchers as well. I would have loved to have gotten that data when I played.
Are there certain sites or columnists that you particularly like?
Yeah, I'm a big fan of Fangraphs.com and Dave Cameron. I love reading some of his stuff. Baseball-Reference.com is a tremendous resource, as well. There's several out there, but my go-to is probably Fangraphs and Baseball-Reference.com. I love Fangraphs and the mountains of data you can get there, especially with hitters' tendencies and what percentage of pitches they chase outside the strike zone. Across the board, when balls are put in play — you know exactly which guys are groundball hitters, certain tendencies. Some of the defensive metrics are pretty interesting, too, although it's probably a little bit controversial still. But interesting nonetheless.
How much time do you spend preparing for each game, or each series?
It's a daily thing for me. There's not a day that goes by that I'm not on Fangraphs or Baseball-Reference.com, or several others, just reading articles or really breaking down data. There's so much to do, and I like to break down overall team tendencies, especially offensively, and of course pitching-wise as well. I like to compare year to year, too. I'm really interested in some of the Pitch f/x data, and some of the release points, the horizontal and vertical movement, and really comparing this data year to year, and seeing what a guy's doing differently year to year. Is his breaking ball breaking a little more, or is he throwing more change-ups this year, or is he throwing more sliders? And I think that those tendencies are really valuable, because those are easy to explain to a fan. You know, 30 percent curveballs last year, and he's only throwing 20 percent this year, and he's throwing more change-ups. The data doesn't lie. But I love the Pitch f/x data, and I'm interested in learning more about the HITf/x data. I think how the ball comes off the bat is really interesting.
How much would it have helped you as a player to have had some of that data — which pitches you threw, etc.?
We charted individual pitches by hand, so I had that data from game to game, but from year to year, I didn't really have that data, because a lot of times it was discarded. The manually written charts were discarded from year to year. And so I would have loved to have been able to compare year to year, or even a five-year period to look at my tendencies. I think would have really helped me. It would have also been nice to know exactly what I was giving hits up on over a period of time — the efficiency of certain pitches. What the rate was on my slider, my fastball, my splitter? Against right-handers, against left-handers. I would have really gotten into that data. I think it really could have helped me. I'm really interested in some of the trends that I had, especially later in my career.
A couple weeks have passed since everything that happened with Jorge Posada, but as a former player, is there a point that you realize that you're never again going to be the player you were in your prime? Is it true that the player is the last to know?
Generally, yes, that is true. The player is the last one to know, the last one to accept it. Part of what makes you great as a young player can hurt you at the end of your career, in terms of you need a certain amount of ego, a certain amount of arrogance to be able to play well and to push yourself and trick yourself into thinking you're better than you really are. It's kind of the way you're conditioned as an athlete. And then at the end of your career, it kind of hurts you, because you're a little more stubborn, you're a little less realistic about what your role should be, or how effective you really are — just kind of succumbing to Old Man Time.
Was there a point in your career when you realized it?
It happened quickly for me. I kind of fell on my face in the year 2000 and had a really bad year, and I remember kind of doing a complete reversal, where earlier in my career I was kind of young and arrogant and cocky, and at the end of my career I was almost going to the manager saying, "I feel bad that I'm putting you in the position to have to take me out of the rotation, and that I'm pitching so poorly that I'm making you uncomfortable." I had a much greater sense of awareness at the end of my career than I did early in my career. And sometimes that hurts you. Sometimes I wish I was kind of a little more cocky and arrogant at the end of my career. Maybe I needed that a little more. But at the same time, I became very aware in that short period of time that my skills had diminished quickly.
Do you think Posada is going through something similar?
I haven't had a chance to speak with him, but I have sensed a bit of a change in him since this incident happened. I guess it's been a week or two ago or whatever it's been. Just judging by his body language on the bench, and the way he's handled himself, he seems to really be making a strong effort to kind of redeem himself, or admit that maybe he didn't handle that situation as well as he would have liked, and people can just chalk it up to an old warrior having a bad day, and let's move on.
Tell me about your involvement with the "Stars & Stripes" cap program.
It's a great program. New Era, and Major League Baseball Charities, and Bourget Motorcycles have partnered up, and all the funds are going to go to the Welcome Back Veterans fund, a great fund that helps all the veterans coming home dealing with some of the problems they have, both physically and mentally. But New Era, the caps are great — all 30 Major League teams are going to wear the "Stars & Stripes" New Era hats on Memorial Day and on the Fourth of July, and a portion of the proceeds are going to go to the Welcome Back Veterans fund. And the Bourget bike is just unbelievable. It's a one-of-a-kind motorcycle, a "Stars & Stripes" edition 2011 Python Super Stretch. Just an amazing bike, handmade. It's got all 30 Major League teams' logos on it. Just a beautiful piece of work. Kind of a low-riding, Super Stretch bike. It's going to go on tour around to all 30 stadiums throughout the summer and then be auctioned off for charity in Vegas on Veterans Day, 11/11/11 this year. It'll go for a pretty penny, because it's a pretty special bike.
Are you a motorcycle guy?
I kinda am. My buddy David Wells is a big motorcycle guy, so when I go visit him in San Diego, he takes me out on his bike. He's got some antique Indians. I never really rode during my career, because I was afraid I'd fall off and ruin my career. [Laughs.] But now that I'm retired, it doesn't really matter if I fall off a motorcycle, so I can kinda get into it now.