Photo: Nick Laham/2010 Getty Images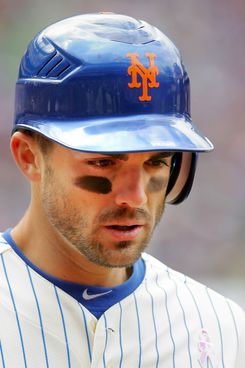 Joe pointed out yesterday that the Mets have only one fewer win than the Yankees, but you could have fooled anyone at Citi Field last night. A dreary, rainy night, with a crowd that looked lucky to sneak into the five figures, watching a team with the Harris/Turner/Murphy/Pridie contingent swinging lumber indiscriminately, against the Florida Marlins, the franchise that time forgot, or at least remembered only enough to make taxpayers buy them a new stadium. Ike Davis wasn't there, Johan Santana wasn't there, and David Wright wasn't there … and he won't be for a while.
The Mets lost 2–1 in eleven innings last night, and if you stayed all the way through, on a rainy cold night, watching three runs in three and a half hours (with an hour and a half rain delay), you are a true Mets fan indeed. It was the type of game that was destined to end with an RBI single by reliever Burke Badenhop, his first hit in three years. (He's now 2-for-24 lifetime.) We love baseball more than just about anything in the world, but we're not sure we would have made it all the way through last night.
As for Wright, he has a stress fracture in his back, which certainly sounds horrible, but isn't really: This is one of those fractures that only needs rest, rather than one of those presumably uncomfortable back casts. (It'd be fun to sign, though.) He'll go on the DL today but very well could be back once the fifteen days are over. And at least there's now an explanation for why he hasn't hit in about two weeks, since he suffered the injury.
What kind of team will be left for him when he returns? Well, Ike Davis will be back by then, and the lineup, for once, might look whole this season. But we wouldn't expect the Mets to still only have one fewer win than the Yankees by then. They'll be lucky to still have one fewer win than the Nationals.