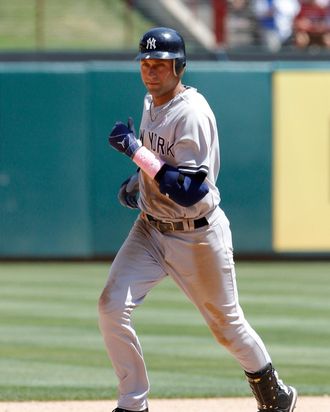 Photo: ? Tim Sharp / Reuters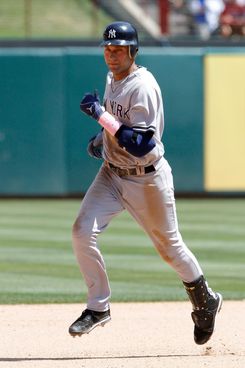 Derek Jeter collected four hits in the Yankees'$2 12–5 win over the Rangers yesterday, including two home runs — the first long balls he'd hit since last August 24. That's a pretty great day for any ballplayer, but for Jeter — who'd come under such scrutiny of late as his slow start dragged into May — it's the best day in recent memory, one that reminds him, and everyone watching him, that he isn't totally finished quite yet. Jeter raised his batting average twenty points yesterday. He raised his slugging percentage 68 points. The three extra base hits he collected this weekend — he also doubled off the wall on Saturday — are one more than he'd gotten in his first 29 games combined. He needed that. We all needed that.
Does a day like yesterday mean that rumors of Jeter's decline have been greatly exaggerated? We'd love to think so, but probably not. He's still a 36-going-on-37-year-old shortstop whose best days are behind him. One great afternoon — and a "He's Back!" tabloid front page — doesn't change that. The hope with Jeter is that the decline isn't so rapid — that perhaps this year he could exceed the numbers he put up in 2010, if even by a just a little.
Heading into this year, we'd hoped for an uptick from his dreadful 2010 numbers, but through the season's first month, there were plenty of reasons to fear the worst: That 2011 would bring another big drop-off in his numbers. (His batting average/on-base percentage/slugging percentage slash line at the end of last week's Detroit series: .250/.312/.268.) Criticism had been flowing in from the mainstream media, just as it had been from more statistically minded observers for some time.
But yesterday, it was 2006 again. Seeing Jeter drive the ball — more than anything else — was the sight for sore eyes. More days like yesterday — four hits, ten total bases — would be fantastic. But to focus less on results and more on what causes them, a few more swings like some of the ones we saw this weekend would go a long way.