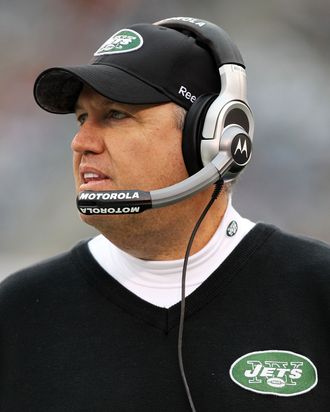 Photo: Al Bello/2011 Getty Images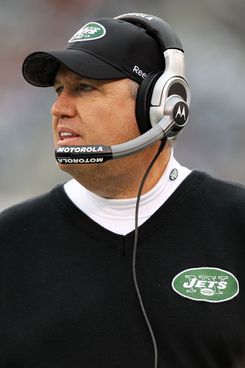 Rex Ryan's book, alas, is pretty boring. This is a predictable shame; the true, unleashed, unvarnished Ryan biography of course couldn't be an autobiography. Of all the coaches in the NFL, Ryan is the one most likely to end up with a "The Bad Guys Won" awesome biography someday, presuming, of course, the Jets someday win. Until then, though, there's a lockout, and he has a book to sell, and he's making the publicity rounds. He wasn't as much fun on Letterman as you might have liked, and his trip to The Colbert Report was entertaining only because Stephen Colbert was in the room. Now, Ryan's tour is about over, and he has filtered all the way down to ESPN: The Magazine. They tried to have some fun with him, in the most ESPN: The Magazine-y way possible.
Sam Alipour, a perfectly fine writer for the mag, decided that his way into the abyss of mystery that is Rex Ryan was to ask him to respond to anonymous Internet posters. This is the most magazine-y of all magazine-y Q&As: A faux-intimate exercise that probably involved about ten minutes of face time (if that) that simultaneously pats itself on the back for being highbrow enough to be above those dirty message board posters (you know, these guys) and hip-with-the-jocks enough to show that they stand outside of that. (Our magazine, of course, never does any of this.) (Coughs.)
So, here's what is thrown at Ryan:
"[Ryan] can't manage a game or run a clock. He has proved that over and over again. Defense is the only part of the game he understands."
"I would give the Jets' draft a solid D, bordering on an F. This draft was heavy with pass rushing, DE talent. They simply didn't get one, which is hard to believe."
"I don't think even Rex has much faith in Mark Sanchez being able to consistently pass the ball down the field despite all the quality receivers he has."
Burn, right? (To Alipour's credit, he does sneak in a foot question.)
What's strange about this is that Ryan has to be the most popular coach in the NFL, at least as rated by Internet message board commenters. (The Gang Green has a thread about this very interview that's an endless lovefest, save for a couple commenters calling other commenters "sheep" for loving Ryan so much.) Now if ESPN: The Magazine wants to start showing Bill Belichick what people are saying about him on the Internet, now that we'll read.
Oh, also, this whole story, and this whole post, is a vivid example of why football needs to come back soon as anything. Not even Rex Ryan is interesting anymore.