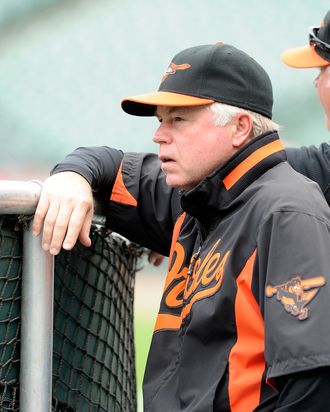 Photo: Greg Fiume/2011 Getty Images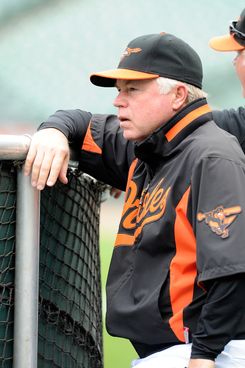 In the wild-card era, only one division has ever had all of its teams finish at .500 or better: The 2005 National League East, with all five teams hitting at least 81 wins. (The Mets finished fourth with 83 wins that year; how that Nationals team reached .500, with Nick Johnson, Jose Guillen, and Livan Hernandez as their best players, we have no idea.) It's extremely difficult to make happen: It requires not only five decent teams, but no one dominant team that lowers everybody else's winning percentages. The Braves won 90 games that year, the Phillies 88, the Marlins 83, the Mets 83, and the Nationals 81. Amusingly enough, the Padres, who won the NL West, won only 82 games. It was not a good year for the National League.
We bring all this up because, if the Orioles can beat the Royals in a game that's going on right now, and the Blue Jays can beat the White Sox tonight, the American League East will have all five of its teams at the .500 mark or above.
Obviously, this has never happened before in the division, mainly because the Orioles have been so bad in the wild-card era, finishing over .500 only twice. (To show how long ago that was, the Tigers were in the AL East back then, and the Rays did not exist.) In fact, by the end of tonight, it's possible that only three games will separate the first place team in the division and the last place team; this is also currently happening in the AL West.
As a statement of parity, this is probably a little overrated. Baseball Prospectus' Playoff Odds Report still has the Red Sox and Yankees comfortably ahead of the rest of the pack; Boston has a 90.4 percent chance of making the playoffs, and the Yankees are at 80.2. The others: Tampa Bay, 14.5; Baltimore 3.5; Toronto 0.5. But we're heading into Memorial Day, and every team in the AL East can tell its fans that it is still, ostensibly, in the race. This was certainly not the case last year. On May 26, 2010, here's how the AL East standings looked:
Tampa Bay 32–15
New York 28–8
Boston 27–21
Toronto 27–22
Baltimore 15–32
With Tampa Bay off to such a hot start last year, Toronto couldn't really consider itself in the race, and the Orioles definitely weren't. It has been three years since the Orioles were this close to .500 by Memorial Day. In a month, this will surely all be wiped away. But as we head into the holiday weekend, everyone's still hanging around. Good for them. That's cute.