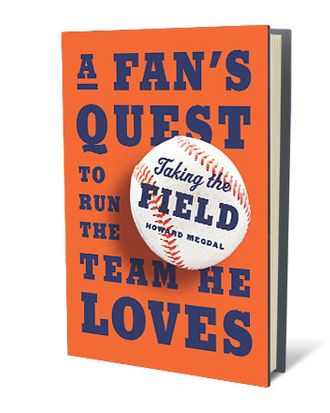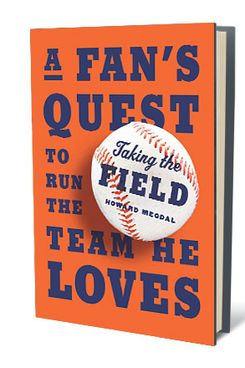 Last year, as the Mets played out their 79-83 season, Howard Megdal — a lifelong fan of the team who's written about the club for a number of sites, including the LoHud Mets blog, New York Baseball Digest, and many others — launched a campaign to become the team's next general manager. No, the position isn't one that can be won with a campaign and a political-style election, but Megdal laid out a platform for turning the Mets around — one built on three key pillars: logic, transparency, and passion. Megdal chronicles that quest in a new book, Taking the Field, that both lays out his plan, and looks at what the Mets did right when they were winners, and what they did wrong when they weren't. He spoke with The Sports Section about his campaign, what he hoped to accomplish, and what he'd do with Jose Reyes if he were in charge.
Before beginning the campaign itself, how much did you view this as a quest to actually become the general manager of the New York Mets, as opposed to drawing attention to what you felt needed to be done?
I guess given the fact that it would be unprecedented if I'd been hired by running a political campaign, that made it a long shot, to be sure. But I thought that at the very least, it could serve as a model in the same way that you've seen with a lot of third-party presidential candidates, where issues are raised that eventually infiltrate the discussion of the two candidates accordingly.
Did you expect that you'd get any attention from the club itself?
I did think so, and the reason why is that it seemed to me that, at its core, these were issues that, number one, the fan base can and should rally around, and number two, it would be something that would therefore need to be attended to by the team. There's a lot of negativity associated with Mets fans for the past few years, and it seemed to me that a positive vision, behind specific reasons — not just being upbeat for the sake of being upbeat — would be something that the team could see as a means for moving forward in a positive way. You know, again, I go to this throughout the book, it doesn't strike me that a New York team is incapable of doing far better than a handful of playoff appearances every fifty years. It seems that, given the market in which the New York Mets play, that success would be as simple as basic competence executed over a longer-term period of time.
Do you think that the Mets took some of the things you talked about into consideration? You talked about transparency, and note that they did provide a lot of updates during the off-season hiring process. Do you think that's something they did independently?
You know it's a great question, and it's one I couldn't give you a definitive answer to. I would just be speculating. It's hard not to see the Mets making such a fundamental change in the way they had done business for 20 years and not feel as if at the very least the conversation had some way of moving them in that direction. Whether it was independent of me, or in some ways because of me, is probably irrelevant to me on a larger scale anyway, because these are the changes that I wanted to see happen. Regardless of how they came to be, I wanted to see them happen so that it would positively affect the way the Mets do business.
What do you think of the job Sandy Alderson's done so far, or is too soon to really say?
Oh, no, not at all. What Alderson has done — and what Alderson and his lieutenants have done — is frankly to implement the vision that I laid out last summer. Now, that is not to say that they are following the blueprint of the book, because the vision I laid out last summer was one that Alderson, and DePodesta, and Ricciardi put forward in Oakland over a longer period of time, and Theo Epstein put into place in Boston as well. So it isn't as if my vision was first. It certainly wasn't. It's simply the first time that you're seeing that put forward with the New York Mets, and that's something very different.
How disappointed were you that Steve Phillips didn't accept your invitation to debate?
Oh, massively disappointed. For one thing, I'd love to know whether he honestly didn't know about peak values of players, what his thoughts were about the long term, what his reasoning is behind various things, because I don't feel like he's ever been pressed in a fundamental way. Obviously, there's a crossover in this book between politics and sports. You know, this is arguably a politician who's never been asked any sort of the tough, longer-term questions. And that's not a shot at beat reporters. Beat reporters are fundamentally focused on this game, tomorrow's game, this week. It's the nature of the job and what they do. And longer-term questions, I don't feel like they're thought about in a fundamental way and asked nearly as often, or at all, for a lot of these decision-makers in the front offices of major-league teams. And it was certainly the case with Steve Phillips, when he was in charge of the New York Mets.
Let's play GM for a second. Imagine you're the GM of the Mets right now. What would you do with Jose Reyes?
Well, I'll give you a really simple answer, with the caveat that you could come up with a trade that makes sense for any player at any time. In other words, let's say the Rockies wanted to trade Troy Tulowitzki for Jose Reyes, and then also throw in two or three top pitchers — of course you would make that deal, but, of course, just as much, you're not going to get anything close to that from the Rockies for Jose Reyes. They have Tulowitzki locked up. The real simple answer is, when you have a player who is only 27 years old, won't be 28 until June, an elite performer, both offensively and defensively, at an extremely hard to fill position — the only shortstops better than Jose Reyes right now are Tulowitzki and Hanley Ramirez, and it should come as no surprise that both were signed to long-term deals in Colorado and Florida — that is not a player you trade.
Even if, as has been put forth in a lot of circles, the Mets need to rebuild — a rebuilding job is not a five-year plan; it's a two or a three year plan, and you do not rebuild by trading a guy who in two to three years, is going to be 30, and is likely to still be a peak performer, at an extremely hard to fill position. If you're talking about trading him right now, with only a few months to go on his contract, he is a rental. He's going to get you maybe two, possibly three good-to-great prospects, best-case scenario. And when you can just as easily bring those types of prospects into your system by this June, spending over slot a couple of times in the middle rounds of the draft, you don't sacrifice the prime of a player like Jose Reyes, who you have under team control for the next few months, in order to do so.
The big question, of course, and the reason why this is a harder question for Sandy Alderson to answer, is that it's simply not at all clear that they Mets are going to have the money to be able to sign him to a long-term deal. You have to figure he's going to cost somewhere in the neighborhood of what Carl Crawford cost the Red Sox last year: seven years, $142 million.
Anything else you want to add? Any memories from the campaign stand out?
You know, the biggest motivator for writing the book, for running the campaign, for thinking about this stuff in a different way, was the birth of my daughter last year. And having her born at the end of March, you take stock of your life in a lot of different ways, and baseball being something that matters to me, both personally and professionally, that was certainly at the center of a lot of what I thought about, and what kind of legacy I'm passing onto her as a New York Mets fan, in the same way it was passed onto me by my father. You know, it's hard to imagine being a fan of any team — how immersed you are in baseball from day to day, even as a reasonably casual fan — and not taking any sort of responsibility for changing that. It's hard to imagine any other aspect of our lives that was that comprehensive that we wouldn't try and take control of. And so, no regrets, certainly, seeing the Mets, at least at the general manager level, behave differently, and more according to the standards that would make them a long-term winner. And my hope, obviously — I've been to four games with my daughter this year already — is that it'll be a happier few years. But in the immediate short term, it's hard to have such optimism.
Do you think an even larger change has to happen, on top of the new general manager?
I find it next to impossible to understand financially how the Wilpons survive. And the hope obviously is that whatever change comes to ownership, the competence that you're seeing and the obvious intelligence that goes into the way the Mets are being run at the operations level right now is not sacrificed. I said to my wife, "It almost feels as if it's not possible for the Mets to have both New York resources and a competent general manager at the same time." Hopefully, that confluence can still come into being. But right now, it's hard to see it happening in the short term. The numbers just don't add up.