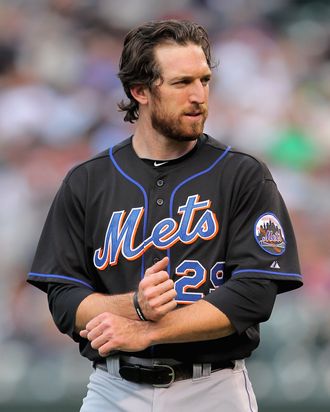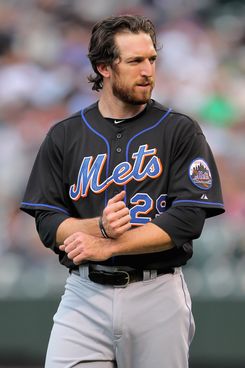 All right, all right, so that headline is a bit misleading: Mets first baseman Ike Davis hurt his left calf last night, and we do not mean that he had two babies cow with him, and one of them fell down. We mean the body part. Davis collided with David Wright on a pop-up in the fourth inning, and it is being described as a "calf strain" (Isn't that called "veal?"). The Mets ended up with a pleasant little 4-3 victory, thanks to a big night from Mike Pelfrey. But mostly, concern is focused on Davis.
Davis will have more tests today, but he is certain he'll be fine, because he is a doctor (note: Ike Davis is not a doctor). He'll be kept out of the lineup for today's afternoon tilt at 3:10 against Colorado, which is going to be a bit awkward, because Wright has a scheduled day off as well, one manager Terry Collins insist he'll continue to give him. This makes the Mets' thrilling infield this afternoon:
1B Daniel Murphy
2B Willie Harris
3B Justin Turner
To be fair, those guys may be out there to foil the Invisible Mets Injury Snipers, the same way that Saddam Hussein's sons had doubles who made public appearances for them.
Hopefully Davis won't be out too long, because he's quietly having a terrific season. Davis leads the Mets in home runs, RBIs and OPS, and he's third in the National League in OPS as well, ahead of such luminaries as Albert Pujols, Prince Fielder and Ryan Howard. And he hasn't dove over a single dugout railing yet.
In other Mets news: You know how last fall, clubhouse attendant Charlie Samuels was busted last year for running an illegal gambling ring and even maybe betting on baseball? Well, he's going to be officially arrested today. Crime doesn't pay, kids.