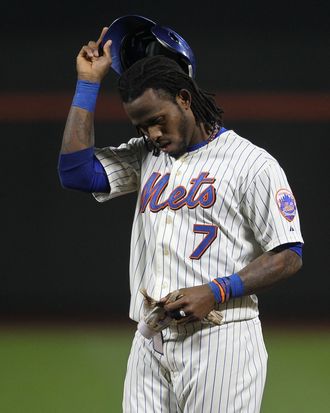 Photo: Nick Laham/2011 Getty Images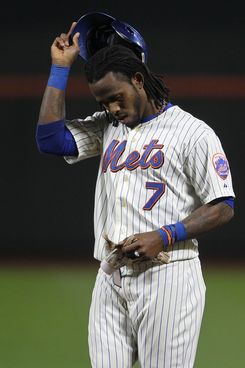 There's a good chance that, in the weeks leading up to the trade deadline, the biggest storyline surrounding the 2011 Mets won't have to do with wins and losses, but with what they'll do with Jose Reyes. The Mets, right now, sit in last place with a 12–17 record, and while this season may bring some ups with the downs, it's unlikely they'll truly compete for a playoff spot. Meanwhile, Reyes can become a free agent after this season and will command a huge contract on the open market, whether it comes from the Mets or from some other team. (Last night — in the Mets 7–6 loss to the Giants — Reyes reached base six times: a double, two singles, and three walks, one of which was intentional.) It's the kind of thing small market teams deal with all the time: A star player's contract is up, and trading him before the deadline could land them something of value — like a package of prospects — in return.
The Mets, of course, are not a small market team, but their financial situation is complicated by, well, you know. It's a unique variation on the scenario that's seen so many homegrown players dealt away throughout the league: This time, the rebuilding team that might not be looking to spend big money happens to play in New York City.
And with San Francisco in town this week, lots of people are realizing how great a fit Reyes would be on the 2011 Giants, or at least, thinking about what such a trade might look like. John Harper of the News looks at how desperately the Giants need a shortstop. Will Brinson at NBC Bay Area considers what such a trade would cost the Giants, and whether such a trade would be worth it (since Reyes, without an extension, would just be a rental). Tim Dierkes of MLB Trade Rumors notes that the Mets' asking price will depend on how many teams make a serious run at him. And Buster Olney guesses that Reyes isn't necessarily interested in testing the free-agent market, so the Giants would have a good shot at signing him long-term, if they made a solid offer.
Of course, all of this only matters if the Mets do indeed decide to trade him. They've got a little less than three months to decide.