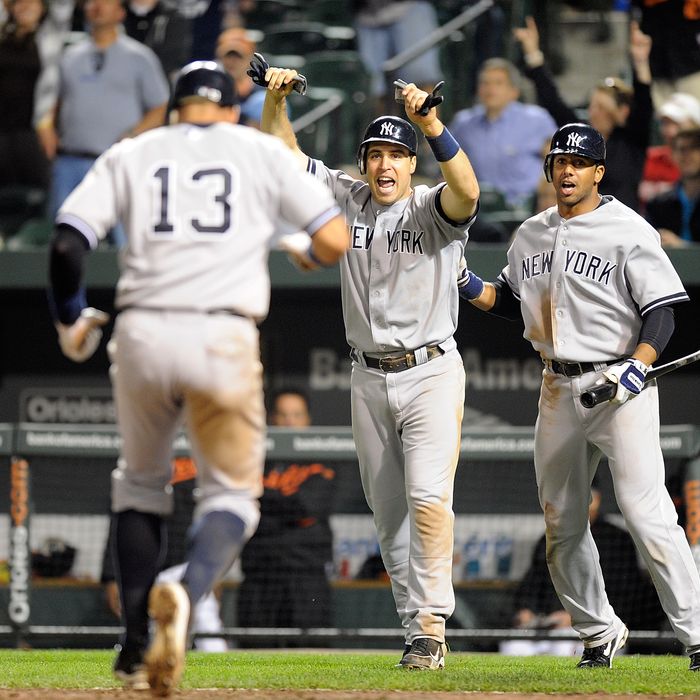 Photo: Greg Fiume/2011 Getty Images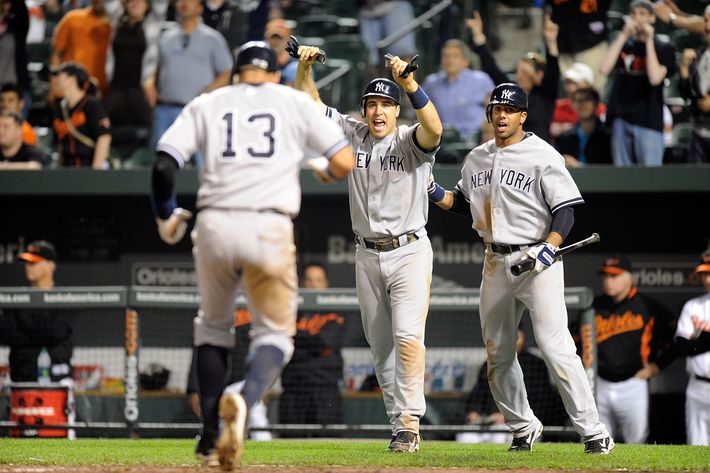 Or perhaps should we say, it took a couple more hours than they'd hoped, but the Yankees beat Baltimore this morning. Because last night's Yankees-Orioles game appeared on its way to a simple recap: Bartolo Colon out-dueled O's starter Zach Britton, and, with a 1-0 lead, turned the ball over to Mariano Rivera. Had the game ended 1-0, Colon's outstanding performance would have been the easy post-game storyline, and we' have noted that Alex Rodriguez's three hits meant a second-straight encouraging game for a guy who desperately needs some of those. And had the game ended 1-0 with a Mariano Rivera save, Joe Girardi's decision to lift Colon — who struck out seven and allowed just three hits and a walk in eight innings — after just 87 pitches would be more of a foot-note and less of an opportunity to second guess. (And let's be clear: We're not the ones second guessing it.)
But then Rivera blew the save, and the next few hours provided all number of things to focus on. Consider this: The Yankees pitchers threw fifteen innings last night, and held Baltimore scoreless in all of them except the one pitched by Rivera. (Hector Noesi threw the final four of those innings, in his big-league debut, no less.) Baltimore left the bases loaded in the 11th and 12th. The Yankees, meanwhile, left the bases loaded in the 13th, stranded runners on second and third in the 12th, and couldn't score the go-ahead run from third in the 14th. This game made it to the 15th tied at 1, but it wasn't because of a lack of scoring opportunities.
Then that fifteenth inning provided a game's worth of intrigue: After two straight singles, Robinson Cano doubled home both Mark Teixeira and Alex Rodriguez to give the Yankees a 3-1 lead. (Rodriguez's single was his fourth of the night.) Then in a scary moment, Mike Gonzalez hit Chris Dickerson in the head with a pitch, cracking his helmet. (Gonzalez was deemed to have thrown at Dickerson intentionally, and was ejected. Both Gonzalez and Buck Showalter said they didn't argue the call because Dickerson was down, a classy move considering they'd have good reason to complain.)
With Dickerson out of the game — we can't believe they even considered letting him remain in to run the bases — the half-inning ended with Yankees starter A.J. Burnett on the basepaths and with Ramiro Pena's helmet on, and Orioles starter Jeremy Guthrie on the mound. These are the kind of weird things that happen in 15-inning baseball games — though usually not under such scary circumstances. The Yankees would go on to win 4-1 — though not before, in one final strange twist, a batted ball would hit Orioles base-runner Brandon Snyder for the second out in the bottom of the inning.
And so it took four hours and 56 minutes, but the Yankees are now 5-0 against Baltimore this year. (Mariano Rivera, incidentally, blew saves in two of those games.) Following up Tuesday night's win with an extra innings loss last night — particularly after what happened in the ninth — would have been particularly crushing. But now they've now won two in a row, after one of their ugliest weeks in recent memory. It's only two games, of course. But it's a good start.