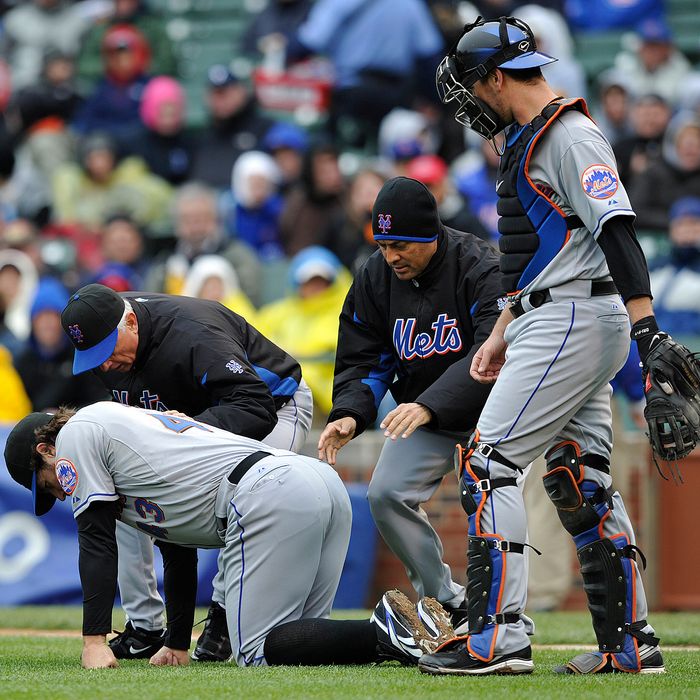 Photo: Jim Prisching/AP2011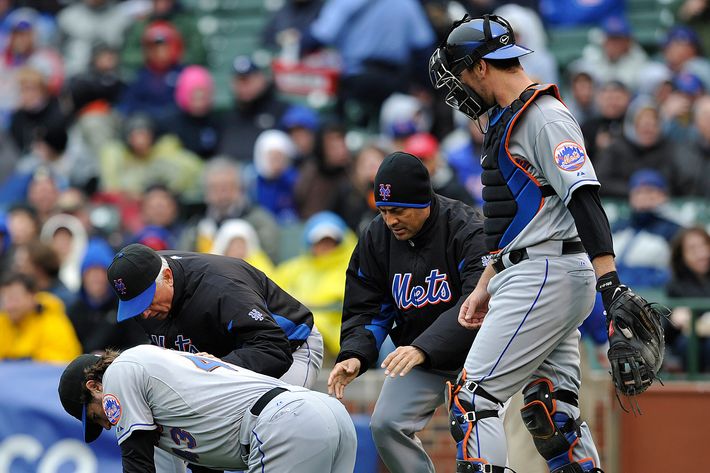 Here is a link to (unembeddable) video of R.A. Dickey getting hurt in yesterday's Mets loss to the Cubs. We'd encourage you to watch it, and more important, to listen to the SNY booth when it becomes clear the Dickey didn't simply slip while trying to cover first in the bottom of the third. Listen to the assorted "ugh"s and "are you kidding?"s. It's amazing that no one actually said "Oh no, not another one," but it's safe to assume they're thinking it.
After the game, we learned that Dickey has a sore right heel and foot — he felt an "intense burning" in his heel when he went down — but that his Achilles tendon is intact, which passes for good injury news for this year's Mets team. The Brotherhood of Injured Mets Players already counts David Wright, Ike Davis, Chris Young, and (until today, at least) Angel Pagan among its members. (Upon joining the Brotherhood, each was taught the organization's secret handshake by Johan Santana, who's been a member without interruption since last September.) Dickey is set to be examined today, at which point he'll learn whether he'll wind up on the disabled list, as well.
As for the rest of the Mets — the ones who didn't need crutches to leave the ballpark yesterday — they begin a three-game series with the Phillies tonight at Citi Field.