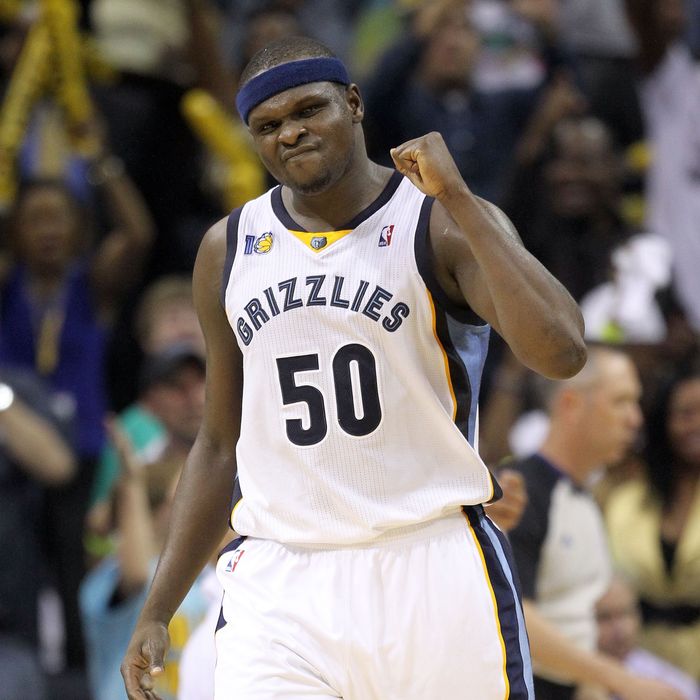 Photo: Andy Lyons/2011 Getty Images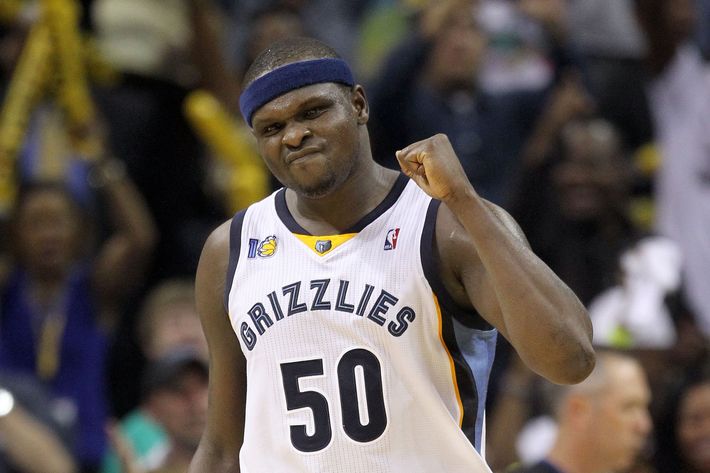 If you were to pick one player who best represents the diseased Isiah Thomas Knicks era, it would have to be Stephon Marbury. If you were to pick one evening, it would probably have to be the Nuggets (and Carmelo) fight at the Garden in 2006. If you were to pick one public-relations fiasco, it'd be the Anucha Browne Sanders disaster. (In all three of those categories, there are so many choices! So many options!) And if you were to pick one play that best summed up Isiah Thomas's time running the New York Knicks, it would be this one:
When it happened, back at our old digs, we couldn't believe it: It was mesmerizing to watch. It was so hideous and hilarious and amazing that we assumed after the play was over, everyone involved in it was sucked into a black hole and converted into anti-matter.
And yet … and yet … the guy at the center of the "play," Zach Randolph, is without question the MVP of the playoffs so far. His Memphis Grizzlies beat the San Antonio Spurs in the first round — a No. 8 seed beat a No. 1, yet no one seemed all that shocked — and are up 1–0 on Oklahoma City going into tonight's Game 2 in the Western Conference semifinals. Zach Randolph. That guy.
Harvey Araton of the Times wrote about the Randolph Nausea yesterday, the vomitous sensation Knicks fans have remember that that guy is now this guy. (Of note: The Randolph Nausea is our term, not Araton's. Obviously.)

Could Randolph have been a building block in New York at a much lower cost than Amar'e Stoudemire? We'll never know, but be sure of one thing: Had it been him catching the pass from Carmelo Anthony at the end of Game 2 in Boston and not Jeffries, the Knicks would have had their first playoff victory in 10 years.
Well, yeah, he could have been, we supposed, but let's not get crazy here: Randolph was on his way back with the Knicks, the first stop in his career resurgence, and was just sort of passing through. More to the point: Amar'e is Amar'e, a pied piper of the Knicks, while Randolph is peaking right now … but you have to wonder what'll happen in the next couple of years, now that he has his big extension. Also: Randolph has Marc Gasol hanging out with him in the post right now, not Jared Jeffries. Makes a bit of a difference.
Randolph wasn't actually awful with the Knicks, but that play is still the main reason he'll be remembered here. It might seem bizarre to see him playing at this level, but hey, at least it's not Stephon doing it.