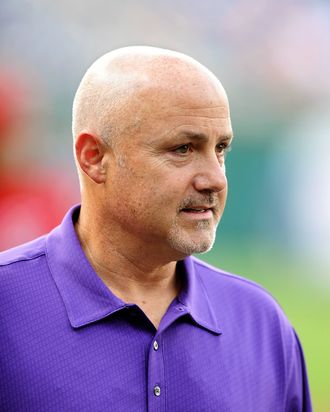 Photo: G Fiume/2011 G Fiume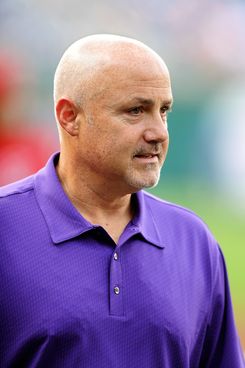 The Mets won yesterday, 1-0, thanks to the pitching of Dillon Gee and a fourth-inning RBI single by Justin Turner. (Gee allowed his first hit — a single by Livan Hernandez — with two outs in the sixth inning. We're now at 7,849 and counting.) But perhaps the biggest drama came in the ninth inning — and shortly after the game ended. With one out in the ninth and a runner on second, Jayson Werth hit a hard one-hopper to Turner at third. Turner's throw appeared to pull Daniel Murphy off the bag at first, but umpire Phil Cuzzi called him out. Manager Jim Riggleman argued. Ivan Rodriguez hollered. And after the game, Nats' GM Mike Rizzo allegedly had words for the umps.
But multiple baseball sources said MLB officials will investigate a report filed by the umpiring crew after the game about a verbal altercation between them and Nationals GM Mike Rizzo as they were leaving the field after the final out.



Immediately after the game, one of the umpires told Mets security guards outside their dressing room to "find the guy in the suit," apparently referring to Rizzo. Mets security VP Rob Kasdon arrived a few minutes later armed with a Nationals media guide to pore over headshots to identify Rizzo, sources said.
That report, by the way, will go to Joe Torre, the league's vice president of on-field operations. When reached by the News yesterday, Torre said he hadn't yet been briefed on what had happened, but seemed like he expected to have the umps' complaint by today. Said Torre: "I'm looking forward to an interesting morning."
About those Mets, by the way: They finished off a two-game sweep of Washington in which the Nationals didn't score a run. And they enter this weekend's Subway Series winners of six of their last eight and nine of their last thirteen.