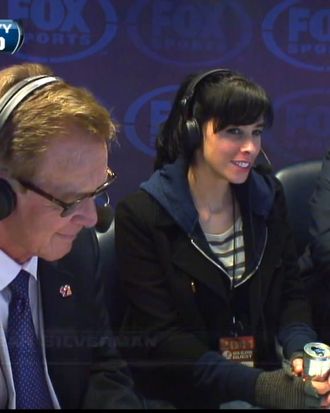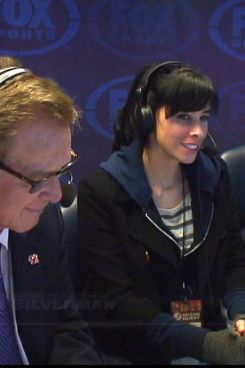 Another weekend of baseball is in the books — the Mets won two of three in Houston, and Yankees got swept by Boston — so what did we learn over the past couple of days? These nine things, for starters.
1. The Mets have one fewer win than the Yankees. Terry Collins's squad took two of three from the Astros this weekend, and were led yesterday by red-headed waiver-wire pickup Justin Turner, who drove in five runs, three of which came on his first big-league homer. (And yes, we are aware that the Mets also have three more losses than the Yankees. But still.)
2. Speaking of the Mets and the Astros, Spider-Man apparently took in Friday night's game. We at the Sports Section don't condone running out onto the field — and we'll note that security reportedly caught up with this guy outside of the stadium — but as far as security-evasion techniques go, this is a new one.
3. If you're famous and wear a baseball team's hat while sitting next to a Fox executive on an airplane, they'll let you visit the broadcast booth, even if you don't know much about baseball.
Among the notable moments from Sarah Silverman's strange appearance in the Fox broadcast booth on Saturday night, which came about as explained above: Her (censored) use of the word "Massholes," and her suggestion that maybe LSD should be okay for pitchers. But our favorite part — and fair warning, we're about to say something kind of nice about Tim McCarver — came when Silverman explained that she's a casual fan, but knows a couple facts that allow her to talk a good game. And so McCarver (who really might have just been trying to keep the conversation moving) called her on it, asking her to say some of those facts. Her answer: "Oh, no, I've got nothing for tonight." Watch the video while you can, which probably won't be for long:
4. The Yankees acquired lots of Kansas City Athletics in the 1950s. Sure, that's not new information. But Craig Robinson — the man behind the great Flip Flop Fly Ball — shows just how often Athletics owner Arnold Johnson did business with the Yankees in this infographic, posted over at Baseball Prospectus. Among those making their way to New York: names like Roger Maris, Clete Boyer, and Tommy Lasorda (who never played in the big-leagues for New York).
5. Yankees minor-leaguers and Red Sox minor-leaguers had themselves a good ol' fashioned donnybrook. As you'd probably imagine, Slade Heathcott — the Yankees prospect who went after the catcher in the clip below — has reportedly been suspended.
6. Bryce Harper homered in New Jersey this weekend. Harper — the No. 1 overall pick of the Washington Nationals last year — visited (Sports Section-approved) FirstEnergy Park this weekend, homering on Saturday evening in a Hagerstown Suns victory. (Steve Lombardi of Was Watching saw the phenom live, and filed this report on the game.) Also, by striking out on Friday night, he earned all fans in attendance 20 percent off at IHOP. Minor-league baseball!
7. Phil Hughes threw a baseball. Thirty times, from 60 feet. Is that good news? Or is it just depressing that it's news at all.
8. R.A. Dickey isn't ready to seek the advice of retired knuckleballers quite yet. So far this season, R.A. Dickey has a 1-5 record and a 5.08 ERA, in addition to being responsible for the nerdiest New York Times correction of all time. So Terry Collins invited Steve Sparks — a former pitcher of his in Anaheim and currently an Astros broadcaster — to advise Dickey, "if he felt so inclined." But via the Star-Ledger, it remains Dan Warthen who's charged with fixing Dickey. Sparks's name, for the record, does not appear anywhere on the family tree of Dickey's knuckleball.
9. Javy Vazquez is still Javy Vazquez. The former Yankee is now a member of the Florida Marlins, and yesterday he allowed six earned runs in the first inning against Washington. (He'd last just four innings.) His ERA ballooned to 7.55, and in 39 and a third innings this year, he's allowed 51 hits and 24 walks. (That's a WHIP of 1.907.) His return to the National League, it seems, hasn't done him much good.