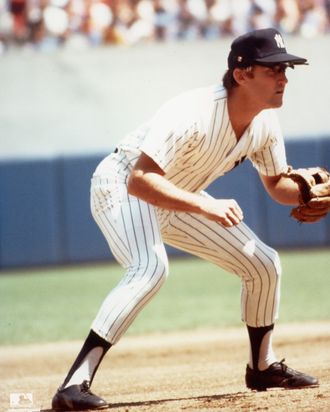 Photo: Photo File/2004 Getty Images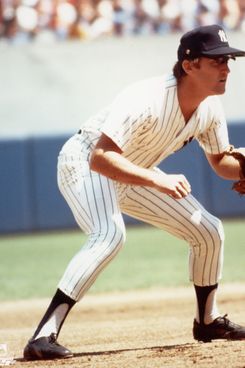 Another weekend of baseball is in the books — the Yankees took two out of three from the Mets during the Subway Series at Yankee Stadium — so what did we learn over the past couple of days? These nine things, for starters.
1. Subway Series tickets were cheaper, and also too expensive. We know these articles aren't really about the same thing — one notes a drop in price this year on the secondary market, and the other involves Mike Lupica complaining about Yankee Stadium ticket prices — but we still appreciate the juxtaposition of the these two headlines in rival tabloids: "Possible to find 'cheap' seats on this Subway train" versus "Subway Series: Only affordable aspect of Yankee Stadium experience is the 4 train fare."
2. The end of this passage from the new Derek Jeter biography caught us off guard. Ian O'Connor's Derek Jeter biography is out, and SI.com published an excerpt about a dinner in 2007 in which Brian Cashman told Jeter that he needed to improve his defense. Some background: Much of the rest of the excerpt portrays Jeter as someone sensitive to criticism — as someone with a long memory who, to paraphrase Joel Sherman, would freeze out those who burned him. So back to the dinner: Cashman was under the impression that Joe Torre had spoken to Jeter in 2005 about the possibility of one day transitioning to center field, but Jeter told him that conversation never happened. And so what was Jeter's response, after hearing from Cashman about his defensive shortcomings? "You mean to tell me we were trying to win a championship every year, and there was a way for me to get better to help us do that, and nobody told me?" It's the kind of perfect answer Jeter's accustomed to giving publicly, but given the set-up in the excerpt, isn't how we'd have expected him to respond, in private.
3. The rapture didn't happen, but doomsday-related Subway Series headlines did. The Daily News went with "Boomsday Is Here!" while the Post settled on "Higher Power," accompanied by this: "Yanks slug Mets with four HRs … & everybody lives!" But our favorite is this one, also from the Post: "It's pure R.A.pture for knuckleballer."
4. The Nationals' GM isn't actually under investigation. You may recall that after a controversial call in the ninth inning of Thursday's Mets-Nationals game went against Washington, reports said that the umpires filed a complaint about a verbal altercation they had with Nats' GM Mike Rizzo. (Joe Torre, now baseball's vice president of on-field operations, had said he was "looking forward to an interesting morning.") But Rizzo says he didn't confront the umpires about the call, he's not under investigation, and he doesn't expect to be fined. Said Rizzo: "I trust Joe Torre explicitly," adding "I know he'll do the right thing by it, and we'll see the results."
5. Graig Nettles didn't try to throw the Mayor's Trophy game back in 1978. Contrary to what Sparky Lyle suggested in The Bronx Zoo, Nettles didn't intentionally throw a ball away in the eleventh inning of the then-annual Yankees-Mets exhibition game. Or at least, so finds the Wall Street Journal. Says Lyle, now the manager of the Somerset Patriots: "Anybody who knows Graig Nettles knows he's not going to do that in a Mayor's Trophy game or a [bleeping] beer-league game or anything else. It was just something we were joking about because the Mets were pretty bad at that time."
6. There's a new Mets pitching prospect to get excited about. With Jenrry Mejia injured, the Post calls our attention to right-hander Jeurys Familia, who's excelled this year in eight starts in High-A St. Lucie and AA Binghamton. (He posted a 1.49 ERA in six starts at St. Lucie, and in his most recent AA start yesterday, he threw seven shutout innings.) Take note, though: Familia was the organization's pitcher of the year in 2009, but struggled last season, going 6-9 with a 5.58 ERA and a 1.58 WHIP with St. Lucie.
7. Keith Hernandez has impressive penmanship. That's probably not supposed to be the takeaway from this article, in which a Daily News reporter spent the game with Gary, Keith, and Ron in the SNY booth, but good for Keith for having "the kind of penmanship that would make a Catholic school teacher proud." That said, we'd have no idea what this said if his name and photo weren't on the card, as well.
8. Javier Vazquez helped the Yankees this weekend. Last week, we called attention to Vazquez's ugly start to the season. (As of last Monday, he had an ERA of 7.55 and a WHIP of 1.907.) But on Saturday, in just his second quality start of the year, Vazquez threw seven shutout innings against the Rays, who are currently percentage points behind the Yankees in the American League East.
9. Subway Series weekend brought some scary news. Hall of Famer Gary Carter revealed this weekend that he has four "very small" brain tumors, and has an exam scheduled for Thursday to determine whether they are malignant or benign. And we also learned this weekend that former Yankee Moose Skowron, who had collapsed at an Arizona ballpark during spring training, is battling lung cancer.