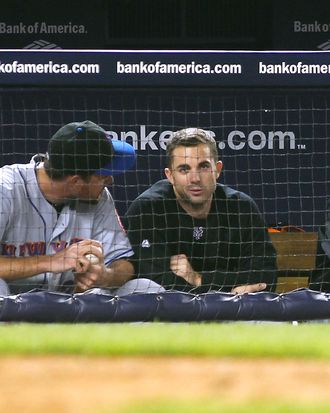 Photo: Mike Stobe/2011 Getty Images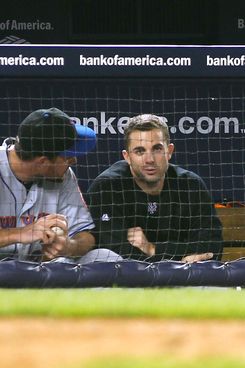 Another weekend of baseball is in the books — the Yankees lost two out of three in Seattle, then won their series opener in Oakland, while the Mets lost two out of three to the Phillies, then won their series opener against Pittsburgh — so what did we learn over the past few days? These nine things, for starters.
1. David Einhorn could become the principal owner of the Mets in three years. Nothing's finalized yet, but here's what ESPN reported this weekend about the terms of his deal with the Wilpons: Einhorn's $200 million will buy him a one-third stake in the Mets, and in three years, Einhorn can up that to a 60 percent stake — thus becoming the majority owner. But the Wilpons can block that move by paying back his $200 million investment while allowing him to keep a one-sixth stake in the Mets.
2. David Wright's parents, at least, think he's a superstar. Joked Wright, after appearing in the Mets clubhouse on Friday for the first time since The New Yorker's article on Fred Wilpon was published: "My parents texted me and told me I was their superstar." Aw. No word on whether they think the Mets are, in fact, a shitty team, though.
3. David Cone continues to get his sabermetrics on. Eventually, David Cone's use of advanced metrics will no longer be news, but we'll point out that in his first series since chatting with us last week about his interest statistics, he explained fielding independent pitching with regards to Felix Hernandez, and later in the series, talked about Mariners shortstop Brendan Ryan in terms of various defensive metrics. We also liked this tidbit from Marc Carig: "It's not uncommon for Cone to show up on the day of his broadcasts with a copy of Baseball Prospectus in his bag." Not at all surprising, but pretty cool, nonetheless.
4. Citi Field and Yankee Stadium are nothing special, according to Yelp. Over at FiveThirtyEight, Nate Silver ranks all 30 major-league stadiums by their average rating — from one to five stars — from review site Yelp.com. The top three: PNC Park, Fenway Park, and AT&T Park. The bottom three: Rogers Centre, Overstock.com Coliseum, and Tropicana Field. (Overstock.com Coliseum, by the way, is what they're calling the A's stadium these days.) Citi Field had the fifteenth-highest ranking (4.05 stars), while the new Yankee Stadium had the 21st, with 3.92 stars. Worth noting: By this measurement, Citi Field represents a big improvement over the since-demolished Shea Stadium (3.45 stars), but the old Yankee Stadium (3.96) has a better rating, if only slightly, than its replacement.
5. R.A. Dickey plans to ask Eli Manning for advice. Dickey tore the plantar fascia in his right heel last week, and though Terry Collins had expressed some concern about Dickey's ability to cover first base, the knuckleballer will start tonight against the Pirates. It's an injury that cannot worsen by playing through it, you see, but playing through it can be painful. And so Dickey intends to reach out to the Giants quarterback, who was hampered by plantar fasciitis during the second half of the 2009 season.
6. Four different people ran onto the field during Saturday night's Yankees-Mariners game. Only one of them was naked, however, and thus got to see a giant picture of himself — with a towel covering his crotch area — on the Seattle Times website. Further analysis of each individual act of field-storming can be found over at SB Nation.
7. Somebody dropped his daughter to try and catch a foul ball … then didn't catch the foul ball. This has nothing to do with the Mets or Yankees, but you know how every once in a while, you'll come across a video of some fan snagging a foul ball while holding his child? There are two parts to this maneuver, as best we can tell: You must (1) catch the ball, and (2) hold on to your child. The Dodgers fan in the video below executed exactly zero of these; enjoy. Well, not enjoy, but you know, go ahead and watch.
8. Scott Kazmir has a 36.00 ERA in two rehab starts. Victor Zambrano, meanwhile, continues to give up no runs, for he is no longer pitching.
9. Jo-Jo Reyes won a baseball game. He'd tied a major-league record by going 28 starts without a victory — the last of which came last week at Yankee Stadium — but Reyes has finally earned his first win since June 13, 2008. (He also earned the Gatorade shower that accompanies the end of such an undesirable streak.) So congratulations, sort of, to Cliff Curtis and Matt Keough — the other two men who went 28 starts without a victory — who get to maintain a share of the record.