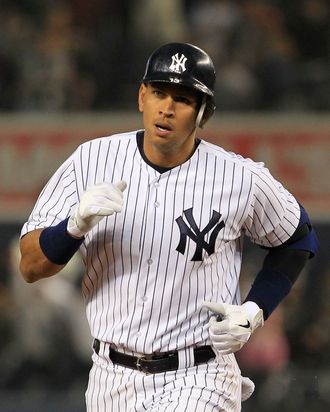 Photo: Chris Trotman/2011 Getty Images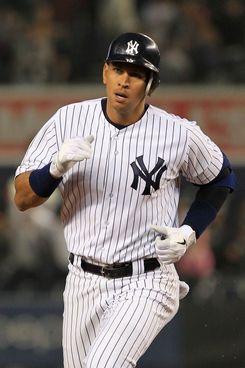 Here's last night's Yankees game, in a nutshell: With the bases loaded and two outs in the fifth, Alex Rodriguez came through with a hit, plating two runs. Then, two innings later, with David Robertson pitching and the bases full of Royals — a situation only one-third Robertson's fault — two huge strikeouts ended the scoring threat. Rodriguez put the Yankees up 3-1. Robertson kept them there.
Which isn't to say others didn't contribute: Derek Jeter added two more hits — including a two-out hit of his own that scored the Yankees' first run. Meanwhile, Freddy Garcia threw six strong innings — his biggest mistake came in the form of a Melky Cabrera home run, and yes, John Sterling did his "the Melkman delivers" shtick — while Joba Chamberlain tossed a perfect eighth inning, and Mariano Rivera closed the game out by starting a nifty double play. (Rafael Soriano, by the way, was unavailable last night because of elbow tenderness, hence Joba's appearance in the eighth.)
One big hit, or even one good game, doesn't mean that a player has regained his old form for good — in A-Rod's case, he had that form as recently as this April; in Jeter's case, you'd have to go back to last April. But Jeter — who's eight for his last fifteen — has been swinging the bat much better of late. Perhaps A-Rod — who says he needs to adjust his leg kick to make his swing more compact — will now follow suit.