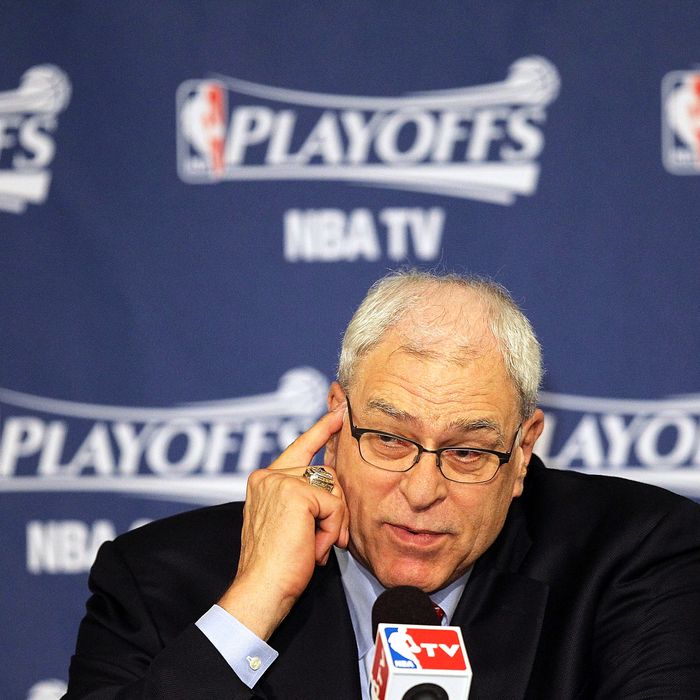 Photo: Ronald Martinez/2011 Getty Images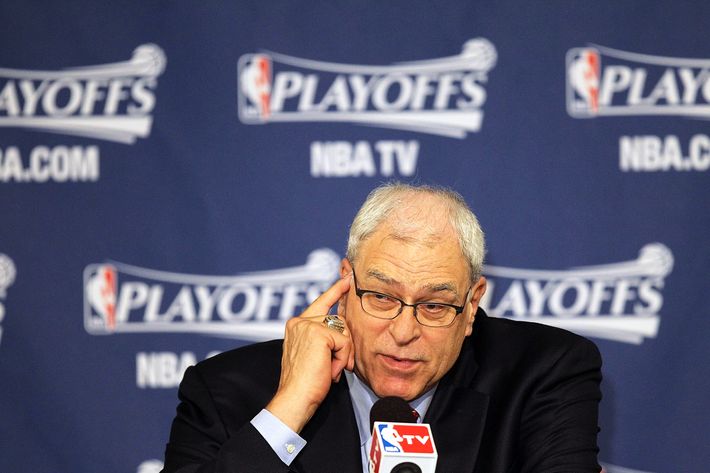 Even if you dislike Phil Jackson, if you can't get those Bulls' victories over the Knicks out of your brain, no one wanted to see him go out like he did yesterday. The Lakers rolled over and slept immediately yesterday, falling to the Dallas Mavericks 122–86 to lose their Western Conference semifinals series 4–0. It was disorienting seeing Jackson, who through all the changes in the NBA over the last two decades still always found a way to win championships, just sort of strolling away after such a monumental embarrassment. It ends like this?
It was ugly enough to make people hope, believe, that Jackson couldn't actually quit like this. The narrative now? Jackson will take a year off, recharge Ye Old Batteries, and come back in 2012–13, primed for that twelfth title.
And hey, wouldn't it be fun if he did it with the Knicks? Spike Lee surely thought so, firing off a series of tweets yesterday essentially pleading for Jackson to come back to the Garden.
• "I agree with a lot of you.Hard to believe Jackson wants to go out like his Lakers did today.Don't think he's done."
• "So if Jackson isn't done,where does he go?Chicago is out.Boston?Hell to The Naw.Only 1 place.He could come Home.Home tu Nueva York.NYC.YaDig."
• "@YoungTrig. So you are going to completely disregard his History with The New York Knickerbockers?"
(He ultimately backed off with an "I'm not recruiting anybody. Knicks have Coach under contract," which is not exactly a ringing endorsement.)
But let's not kid ourselves: Jackson is done. All told, he was kinda done a year ago but couldn't help but try to sneak out one more title, No. 12, his fourth three-peat. (The $10 million salary didn't hurt.) The man is old, fragile — it's ominous to watch him walk; he always looks like he's about to fall over and crumble — and past his prime. He just looks tired.
He doesn't want to coach at all, and he surely doesn't want to coach the Knicks. (The "PhilJax back to the Knicks" stories have been around so long they can legally buy alcohol.) Adrian Wojnarowski of Yahoo put a convincing end to that in his column this morning:

Rest assured, the list of suspects to lure Jackson out of retirement will be predictable, but flawed. The New York Knicks? Forget it. For Jackson, the Knicks represent his purest, most cherished memories in pro ball. He thinks of Holzman and his magical NBA championship teams with Reed and Frazier, Bradley and DeBusschere. To return there - to sell Carmelo Anthony on the triangle, to navigate New York's back-stabbing, dysfunctional ownership - would sully his Madison Square Garden memories.
That's exactly right. It was a grand journey, but Jackson is done, and the Knicks are gonna have to work with the coach they have. It was a rough way to go out, but man, we'll miss Jackson. It just sorta doesn't feel like the NBA without him, already.