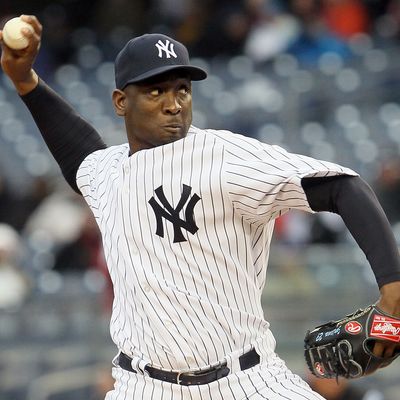 Photo: Jim McIsaac/2011 Jim McIsaac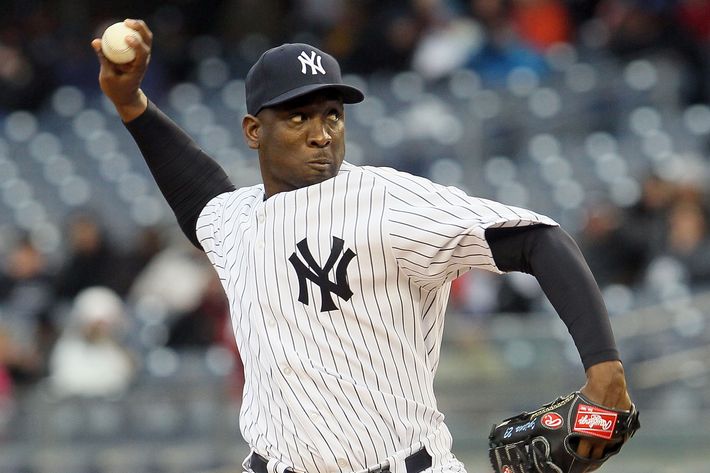 Rafael Soriano has pitched just once since May 8 — he threw a scoreless inning Friday night against Boston — and now he's scheduled to be examined today by the team doctor and said yesterday that he expects he'll miss another week or two because of his sore right elbow. And during a week in which just about everything seems to be going wrong for the Yankees, even the pitcher's remarks to the press warranted a mention on at least one of the beat writers' blogs.
Those remarks:
• When asked who advised him to take a week or two off, Soriano answered team vice president Felix Lopez. (The Yankees later clarified that Lopez was acting as an intermediary between Soriano and the Tampa-based training staff.)
• Also this, when asked if it bothers him not to be able to pitch: "I don't think the bullpen be the problem right now. I think it be the hitters. That thing happens sometimes. Whatever we have to do, make a good game and see what happens. One of these days, everything be better."
• And this, when asked if it bothers him that he was unavailable for games against Boston and Tampa Bay: "Not at all, to me." Also: "Because in the situation, how the team looks be the situation when I'm supposed to be in the game, the eighth. Everybody see, (the team is) losing two, three runs. I don't think it be that situation that I would be in the bullpen, that I would be in the game."
Not the savviest of answers, to be sure, though he's right that the Yankees' hitting has been mostly dreadful of late. Chad Jennings predicted that his remarks would "surely create some sort of stir." But, to be honest, with everything going on with this team right now, Rafael Soriano's lack of media savvy is hardly a major concern. Soriano's been far from perfect on the mound this year, but the results of his medical examination — and finding out how much longer a team that's now lost six in a row will be without its set-up man — matter a little bit more right now.