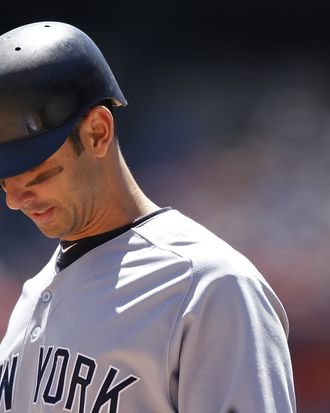 Photo: Gregory Shamus/2011 Getty Images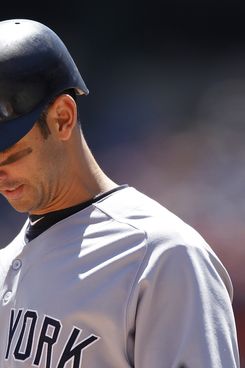 Jorge Posada is signed through the end of 2011, and though he hasn't indicated that he intends to retire at the end of the season, he's struggled as the team's designated hitter, and his wife admitted yesterday that they've talked about a future in which he stays at home with his kids. So if this season does mark the end of Posada's career — and let's remember, it's been a damn good one — we hope Posada at least gets an appropriate send-off: Late-season ovations, "Jorge, Jorge" chants, and all of that. But a report today suggests that his making it through this season isn't a given.
The New York Yankees will reconsider Jorge Posada's future with the team if his numbers don't improve by the All-Star break, according a baseball official with knowledge of the Yankees' thinking.

On Wednesday, Yankees manager Joe Girardi left Posada out of the lineup for the third straight time against a left-handed starter.

This sets the stage for what could be an inglorious end to Posada's career with the Yankees. With Posada appearing to be demoted to part-time designated hitter, he must begin to hit consistently to remain on the team.
It doesn't explicitly say that Posada would be cut at that point if he doesn't start hitting, but since Posada's already effectively been turned into a part-time designated hitter (Update: and an occasional first baseman, apparently), it's reasonable to assume that any further reconsideration of his role could lead to that "inglorious end" Marchand speaks of, particularly since he wouldn't have much trade value. Of course, it also doesn't say what Yankees brass considers a reasonable improvement; as of today, he's batting .179 with six homers. (His .653 OPS, for what it's worth, is not the lowest on the team: Nick Swisher's and Derek Jeter's are both lower.) Assuming that this is indeed the Yankees line of thinking, it raises questions about their plan B if Posada continues to struggle: Does Andruw Jones become the full-time DH, against both lefties and righties? Or do they think that Jesus Montero is ready for the big leagues? (There are questions as to whether he is.) Or would they pursue a trade for a designated hitter?
That, of course, is getting ahead of ourselves. If Posada's numbers improve — by however much the Yankees want them to improve — then they won't have to decide whether to cut loose a lifelong Yankee. It's all up to Posada — at least for now, it seems.
Yanks weighing Jorge Posada options? [ESPN New York]