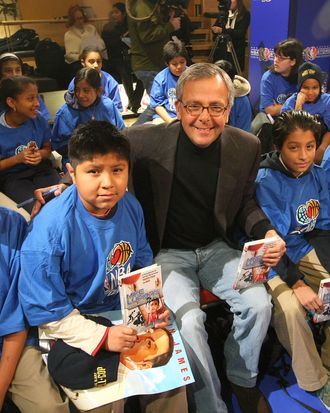 Photo: Michael Loccisano/2009 Getty Images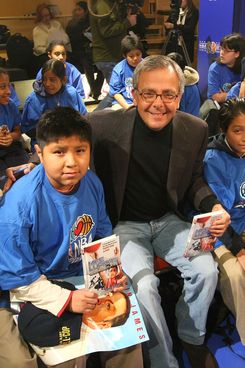 Yesterday, polarizing columnist Mike Lupica's hour-long show premiered on 1050 ESPN Radio, marking the end of, in his words, "a much-needed eighteen-and-a-half year sabbatical from radio." So how'd it go? Some thoughts, below.
• It took all of four minutes for Lupica to show his disdain for any statistics more advanced than batting average. (In the most sarcastic voice imaginable: "Oh, he's hit this many ground balls??") And by "advanced statistics," we don't mean less somewhat less mainstream stats like UZR, or VORP. We mean, when the concept of on-base percentage was brought up later on — on-base percentage! — Lupica uttered a disappointed "Oh my God" as second-banana Don La Greca spoke.
• Speaking of Le Greca, he appears to be serving as something of a devil's advocate. So when Lupica suggested that fans should relax about Derek Jeter's slow start to the 2011 season, La Greca pointed out that many people look not just at his 2011 season to date, but his 2010, as well. And when Lupica suggested that the Yankees were built to swing for the fences, La Greca chimed in to say that Yankees also valued players that worked counts and complied high on-base percentages. (The aforementioned "Oh my God" came at this point in the show.)
• The show lasts just an hour, so Lupica couldn't get into many topics: He touched on Jeter, the Yankees and Mets in general, and then the Lakers and Phil Jackson — before an interview with Bud Selig. By the way, on the topic of Phil Jackson, Lupica doesn't think he's done, and thinks he'll take a year off, at which point someone will make him an offer. (On the subject of whether Jackson is too old to coach again: "My friend Larry Brown is 70. He will take a job if it's offered to him.") He did not offer his thoughts on those red-hot Rip Taylor rumors, probably because we hadn't started them yet.
• The best part of the show was the interview with Selig, in which the commissioner spoke about the Dodgers and about why the Mets are not like them. Selig also made a ten-team playoff system seem inevitable — despite the protests of Lupica.
• Said Lupica, on appearing on another of the station's shows last week, to promote his premiere: "This is that honeymoon period where I can try to convince the bosses that I'm like a team player." He was kidding. Probably.
Show No. 2, by the way, begins in an hour.