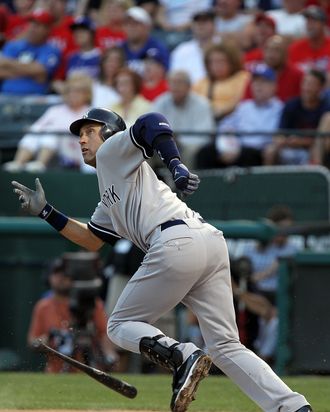 Photo: Ronald Martinez/2011 Getty Images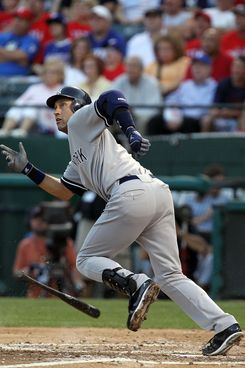 Once a week until Derek Jeter gets his 3,000th hit, we'll take a quick and dirty look at which game we anticipate he'll get it in, based on his 2011 numbers to that point. Obviously, buy tickets (or fly to some random city) at your own risk, especially since a lot can change in the coming weeks: Jeter could get hotter or colder, games could be rained out, he could get more frequent days off, or be dropped in the batting order, or get hurt, or whatever. But just for fun …
• Jeter has 36 hits through the Yankees' first 33 games this year, or 1.09 hits per team game.
• Jeter has 2,962 career hits, and needs 38 more to get to 3,000.
• At this rate, it'll take 35 team games to get there.
• And so at this rate, he'll get to 3,000 on June 17, at Wrigley Field, versus the Cubs. That's nine games sooner than last week's prediction — Jeter had quite the week, as you know — and so the more he hits like he has over the past seven games (he got a hit in all of them), the more that date will get moved up. Also: Wrigley Field! If he's going to get to 3,000 on the road, that would be a pretty neat place to do it, no?
Previous projections:
5/4: June 28, vs. the Brewers