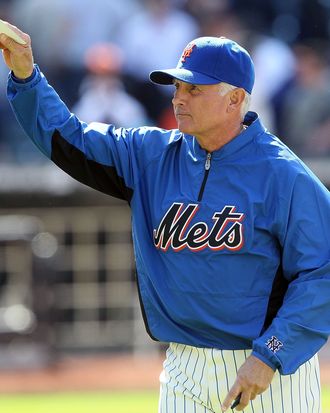 Photo: Jim McIsaac/2011 Getty Images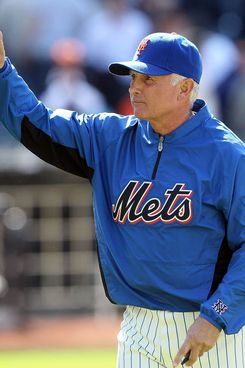 Jason Bay returned to the Mets yesterday after missing the first two games of their series against San Francisco so he could attend the birth of his third child, Garrett David. Ballplayers leaving the team to attend the birth of children is hardly a new concept, but this year, baseball introduced an official paternity-leave policy, which allows players to leave their teams for 24 to 72 hours, and for their team to replace them on the roster while they're gone. But Terry Collins, the old-school manager that he is, isn't so sure about the rule.
"Twenty-five years ago nobody left," Collins said. "Nobody went to weddings. You played because the season was six months long or five months long and you stayed. But the rules changed and that's part of the Basic Agreement now, but they got this rule which helps you so you don't lose a player and you can keep a core roster. We adjust to it. (But) I'm sure the wives are happier."
This seems like a good place to mention that last month, Richie Whitt of the Dallas Observer caused a stir when he criticized Colby Lewis for missing a scheduled start to be with his wife when she gave birth to their second child. (Sample Whitt quote: "Departures? Totally get it because at a funeral you're saying goodbye to someone for the last time. But an arrival is merely saying hello to someone you'll see the rest of your life." And another: "If it was a first child, maybe. But a second child causing a player to miss a game? Ludicrous.") Whitt took plenty of heat for that, and deservedly so: The man's wife was giving birth to his child; it hardly seems ludicrous for him to miss an April start against Anaheim to be in attendance. (Rob Neyer had a good take on this at the time — one that at least makes those who jumped on Whitt think a little: "What if we're talking about your favorite NFL team's quarterback? Do you want him skipping Sunday's big game to attend the birth of his third child? Yeah? What if it's the Super Bowl?")
And let's be clear, Collins wasn't criticizing Bay; he was talking about the policy in general. (And let's also be honest: Yesterday's Mets game was hardly the Super Bowl.) Still, there's something uncomfortable about debating a personal decision like whether to attend the birth of one's child as if it's just another bit of sports-radio fodder. ("Hey Mad Dog, I've got two points: How do you let Aubrey Huff beat you in that spot, and why should Jason Bay be allowed to attend the birth of his son? I'll hang up and listen to your thoughts.") Because it's just that, a personal decision — one that the league has developed a policy to accommodate.
By the way, the Mets won that game yesterday, 5–2. The last time Jason Bay returned to the lineup — after coming off the disabled list — the Mets ran off six straight wins. So perhaps a return from the paternity list will have the same effect.