Photo: Jim McIsaac/2007 Getty Images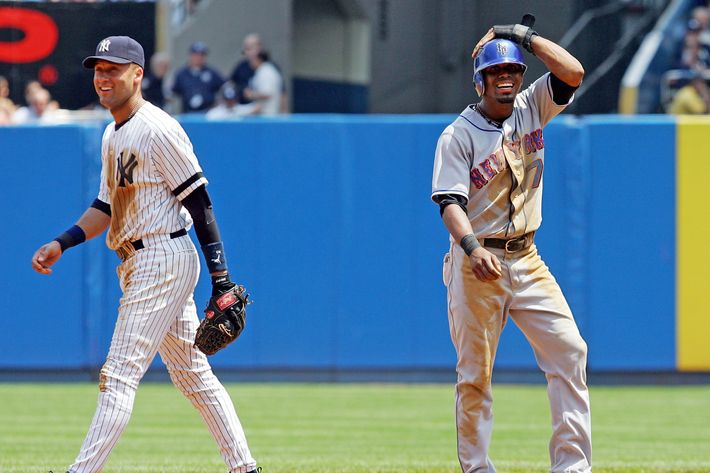 As you're surely well aware — because of the sour, depressed mood you've been in all week — the rain is not going to stop this weekend: It is very possible that one, maybe two, games of the Mets-Yankees Subway Series will end up rained out. In every other way, rain is sucking the soul and life force from your body. But this weekend: A rainout would be cool. It would lead to one of our favorite New York City sports experiences.
This weekend's series is at Yankee Stadium; the Citi Field series is over July 4 weekend, when, presumably, the weather will be more pleasant. So if we get a rainout this weekend, they'll have to a make it up that weekend … which means, yes, a day-night split-stadium doubleheader.
We love when that happens. The Yankees and Mets playing an afternoon game, then everyone packing up and hopping in buses and getting police escorts and high-tailing to the other team's stadium in time for a nighttime start. It's happened three times since interleague play began. The first time is the most famous: That's when Roger Clemens hit Mike Piazza in the head, leading to Piazza's "I have no respect for him at all" comments and, of course, the bat-throwing business in the World Series five months later. The other two weren't as dramatic, though in 2008, it did involve Sidney Ponson throwing a shutout.
Split-stadium doubleheaders are just one of those goofy only-in-New-York things that are fun little summer curios. And this one could happen July 4 weekend, adding to the wackiness. Our dream is that, someday, the afternoon game will go, like, twenty innings and last seven hours. That'll end up forcing the stadium hosting the nightcap to essentially have 50,000 fans sitting in the stands, waiting for the teams and players and their bats and balls to show up. There's something awesome and surreal about that.
But this can only happen if the Yankees and Mets can't make up a rainout this weekend. So root for rain, specifically, on Sunday. Or cheer for downpours all weekend, and come July 4 weekend, we'll have three split-stadium doubleheaders. A man can dream.