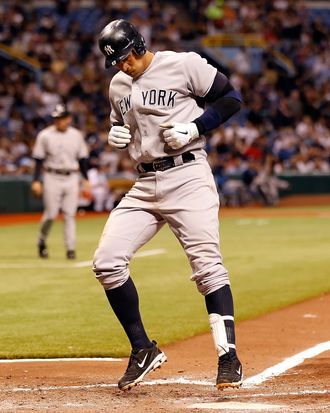 Photo: J. Meric/2011 J. Meric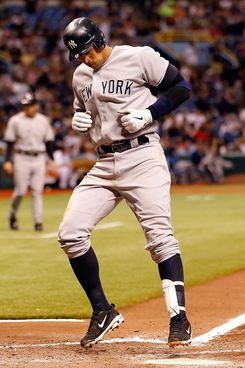 Thinking back to the Yankees 12—5 win over Texas two Sundays ago — the game in which Derek Jeter teased us with two home runs and four hits — we're reminded that one big day doesn't really end a player's slump. Particularly if that player is Alex Rodriguez, who is reportedly concerned about his surgically repaired hip, even admitting that his "lower half" isn't reacting as it should. A-Rod hit two badly needed home runs last night in a badly needed Yankees win over the Rays. Now, he needs to keep on hitting.
It's hard to read A-Rod's quotes in John Harper's column today and not be a little concerned yourself, even after a night like last night:
"The hip is funny," A-Rod said before the game. "It's not really something that is tangible. It's almost more of a delayed reaction when I swing the bat."



He likened it somewhat to the feeling he had two years ago, saying, "You would fire (the lower body), and then the hip would fire. It was almost like it wasn't in sync."

"Again, I don't want to speculate, but if it continues, I want to make sure everything is OK."
A-Rod won't speculate about his health, and neither will we. But needless to say, the Yankees need their clean-up hitter healthy and comfortable and swinging the bat like he did last night. There was a lot to like about last night's game, actually: Ivan Nova allowed just one run, albeit in just five and a third innings. David Robertson escaped a bases-loaded situation in the bottom of the sixth by striking out B.J. Upton and Casey Kotchman. (Robertson celebrated with Joba-like enthusiasm after the second of those.) And the Yankees — who scored four runs off of James Shields — extended their lead late, turning a 4—1 lead into an even more comfortable 6—1 lead in the ninth. (They'd win 6—2.)
Also, we'll note that in his return to the starting lineup, Jorge Posada went two for three while batting seventh. After a week in which just about everything went wrong for the Yankees, it was nice to see a few things go right. But just like with A-Rod, now let's see them do it again.