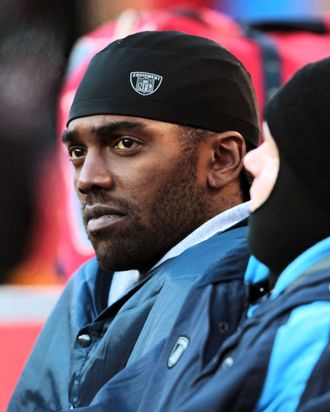 Photo: Jamie Squire/2010 Getty Images
Thinking about football when no one really knows when (or even if) next season will begin still feels a little strange. Draft picks and potential roster moves feel almost theoretical: Yes, Player X would be a great fit on this team that may not actually play any of the games they're scheduled to play. But the teams themselves can't really afford to think like this: Once the lockout is lifted, they'll need a plan, and a Plan B, and so on, for assembling a roster. And so reportedly, the Jets' plans could involve Randy Moss.
This isn't the first time that Moss's name has come up in connection with the Jets: Last month, Rex Ryan spoke highly of Moss — who played last year for the Patriots, Vikings, and Titans — leading to speculation that he could be a fit for the Jets. Then came a report that the Jets weren't interested in Moss, followed by a report that maybe they were interested. (And don't forget the one that said that Ryan only praised Moss to motivate Santionio Holmes.) But on his Daily News blog this morning, Manish Mehta writes that the Jets "will have more than a cursory interest in Moss if Holmes or [Braylon] Edwards doesn't return, per sources." And that's the thing: Plan A might involve Holmes and Edwards, but in reality, that might not be a possibility.
Again, via Mehta:
The uncertainty surrounding the makeup of the team's wide receiving corps has generated plenty of speculation in the past few months. Santonio Holmes, Braylon Edwards and Brad Smith will all be unrestricted free agents if the 2010 free agency rules aren't reinstated.



Although the organization has maintained that it would like to keep both Holmes and Edwards, it may not be financially feasible to sign two high-caliber wideouts to long-term deals. Holmes previously stated his desire to take a wait-and-see approach with negotiations. Edwards recently expressed his desire to play for the Jets, perhaps at a slightly discounted rate.
By the way, Edwards has reportedly sold his New Jersey condo. (Make of that what you will.)
Ryan's not the type of coach who'd shy away from a player with some baggage. But he's also not the kind of coach who will stand for a player quitting on plays, which Moss has been accused of. It's not Mike Tannenbaum's move quite yet. But when the lockout ends, if the Jets don't bring last year's receiving corps back, it will be.