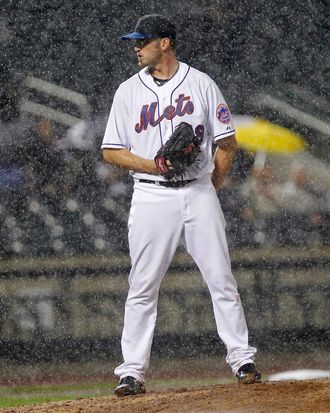 Photo: Paul J. Bereswill/AP2011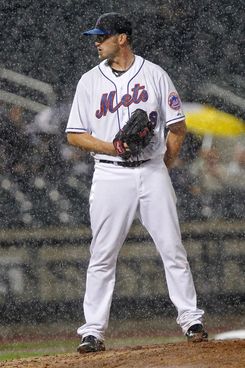 If the Mets (and other teams) are canceling some games for strategic reasons, there must have been a real strategic advantage to playing last night. Because we don't remember a time when baseball players looked more miserable playing baseball. You half expected the infielders to be traveling around on lily pads.
The Mets beat the Nationals 3-0, and everyone just seems happy to have gotten out alive.
Filip Bondy of the Daily News describes it thusly:
The conditions Wednesday night, though, may have represented the worst environment ever for a major league game completed without a single delay. "Not that I can remember," Terry Collins said, about experiencing such circumstances in the past. "Not at this level."
The best part is when Bondy points out that mosquitos began forming above one of the lakes around second base. It would have been hilarious if someone would have ran out to their position in galoshes, or maybe water wings.
By the way, don't look now, but the Mets are just two games under .500. If they were in the AL West, they'd just be 2 1/2 games out of first. Heck, as is, they're only 4 1/2 out of the wild-card. At this pace, hell, make it rain like crazy.