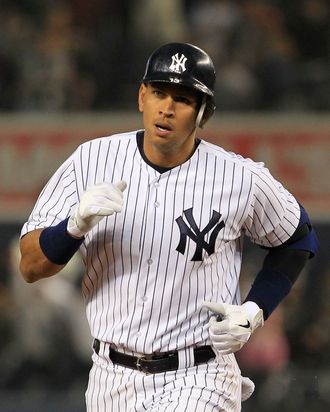 Photo: Chris Trotman/2011 Getty Images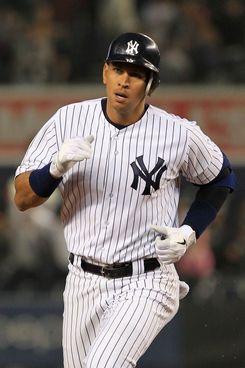 This week started off promisingly enough, with a big day for Derek Jeter on Sunday — look how much our 3,000th hit projection changed! — and a big hit from Alex Rodriguez on Tuesday. But Eric Hosmer gave his family something to cheer about in a Royals win on Wednesday, and a sloppy second inning doomed the Yankees last night. And so as of today, with the Red Sox coming to town for a three-game set this weekend, the Yanks have fallen out of first place for the first time since April 13. (They're currently a game behind the Rays.) But what happened this week that didn't involve stem cells?
The invisible-Mets-injury snipers struck Chris Young and Ike Davis. Carlos Beltran, meanwhile, increased his trade value some more in yesterday's win over the Rockies.
We learned that George Steinbrenner helped the FBI before getting his presidential pardon.
LeBron and the Heat finished off the Celtics. The Lakers are out, too, but don't expect Phil Jackson to coach the Knicks.
Mike Lupica's new radio show debuted. Talk of on-base percentage is not welcome.
The Islanders announced plans for a new arena, while their fans circled August 1 on their calendars.
Reports said the Rangers might travel to Philadelphia for the NHL's next Winter Classic.
Jason Fry explained why the Mets need to keep Jose Reyes.
We spoke with Howard Megdal about his new book and his 2010 campaign to become general manager of the Mets.
And we spoke with Jeff Kagan, the director and co-founder of the New York City Gay Hockey Association, about Sean Avery and the culture of the sport.
That's it for us. Have a great weekend.