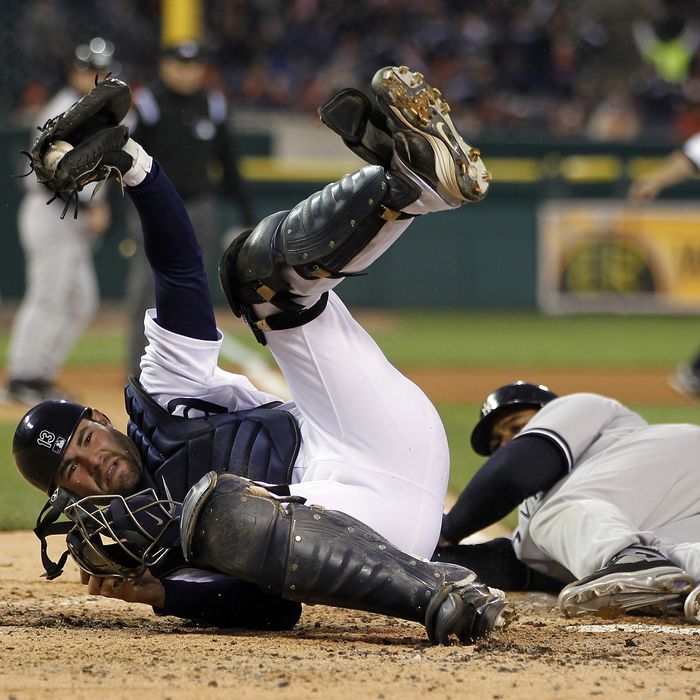 Photo: Gregory Shamus/2011 Getty Images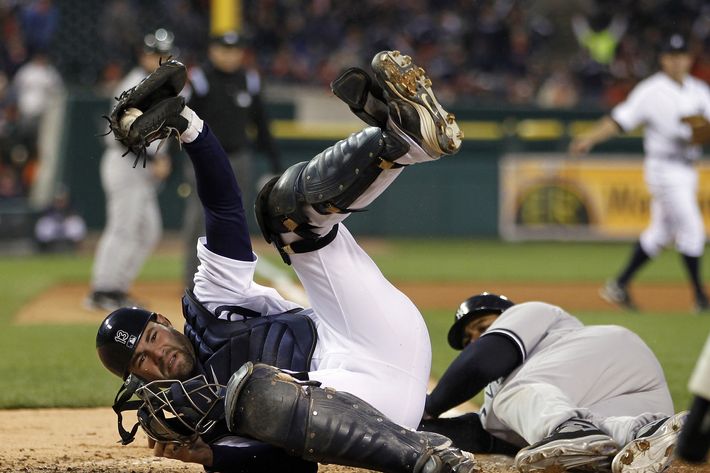 The Yankees lost last night, 4–2, ending their winning streak at the three and the Tigers' losing streak at seven. They played a generally sloppy game: Three runners were thrown out on the base paths — two of which upset Joe Girardi — with Jorge Posada's caught stealing (!) particularly standing out. Meanwhile, CC Sabathia didn't have his best stuff, allowing two runs in the first and two more in the fifth. (Not to defend Posada, but he's tried this before — attempting to steal when he doesn't think a pitcher is paying attention to him. He stole three bases in four attempts last year, but this time, Brad Penny stepped off the mound and caught him.)
To quote John Sterling on Penny in the early going (via Bronx Banter): "If you have to write a term paper, you can do it between pitches." It was the kind of game that made you wish you had a term paper to write, if only to distract you from the base-running blunders and the lack of hitting with runners in scoring position. But hey, these things happen sometimes.
Meanwhile, plenty of outlets over the past two days are checking in on Derek Jeter. The Post brings up his .250 batting average through the first month of the season (and points out that 11 of his 26 hits have been of the infield variety). The News instead focuses on his lack of extra base hits (noting that he's hit just two all season, both doubles). The Times, in a blog post, asks — as in, literally asks readers — if this is it for Jeter, or if he'll have a mid-season resurgence like David Ortiz did last year. And over at ESPN, David Schoenfield says it's time to move Jeter out of the leadoff spot. We find the opening line of the last of these especially interesting: "This is not an anti-Derek Jeter post, although I'm sure many Yankees fans will take it that way." We're not entirely sure what that means, but if we're reading it correctly — that suggesting a drop-off in Jeter's game isn't meant to attack him, but to point out an unfortunate reality — then we can relate to Schoenfield. As we've already said, we're hoping for the best with Jeter — our Yankee fandom is no secret — but we're concerned with what we've seen, knowing what we do about what happens as players age.
In any case, Freddy Garcia gets the ball in the third game of the four-game set tonight.