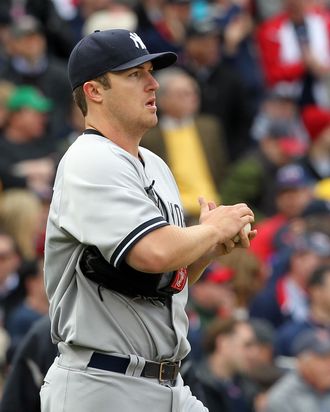 Photo: Jim Rogash/2011 Getty Images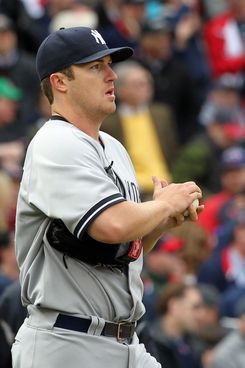 Phil Hughes learned yesterday that he does not have thoracic outlet syndrome, a rare neurovascular condition that likely might have required season-ending surgery. Indeed, Hughes visited with a specialist in St. Louis, and all tests for a circulation or vascular problem came back negative. So that's good news, that he doesn't have the neurovascular condition that might have required an operation that could have involved the removal of a rib. The bad news, of course, is that they still don't know what's wrong with him — what's causing his dead arm, and why his velocity has been down so much this year.
So now Hughes is returning to New York, and the Yankees aren't saying what the next step is for the righty. Joe Girardi said only that the Yankees would keep trying to strengthen Hughes's arm, but beyond that, no one has any idea when he'll be able to pitch. And so once again, the Yankees should give thanks that Barolo Colon — who took Hughes's spot in the rotation after being signed to a minor-league contract and then making the club in spring training — has been so effective.
Colon threw seven solid innings in Detroit last night, allowing three runs and striking out seven without allowing a walk. (Colon leads the American League with a strikeout-to-walk ratio of 5.50.) It wasn't quite the dominant performance of his last outing — Alex Avila homered twice off of him, the second of which tied the score in the seventh — but the Yankees would take advantage of a shaky Jose Valverde, scoring twice in the ninth, with Nick Swisher picking up the go-ahead RBI with a one-out single. (They'd go on to win 5–3.)
It's not correct to say that this is all going how the Yankees hoped it would; they'd prefer it if one of their young starters wasn't out with a mystery injury. But Brian Cashman's preseason plan of throwing youngsters and past-their-prime veterans at the wall and hoping that some things stick? In Colon's case, through three starts at least, something is sticking. And with Hughes out for who knows how long, that's the best news of all.