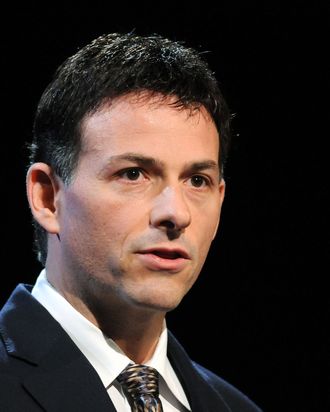 Photo: Bloomberg/2010 Bloomberg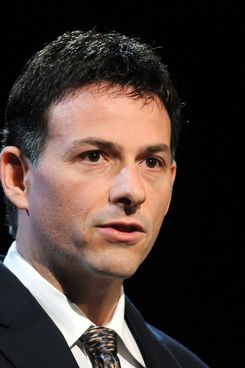 We've heard a lot over the past couple of days about David Einhorn, the hedge funder who bet against Lehman Brothers months before it collapsed. We've even heard a little about David Einhorn, the poker player who finished eighteenth at the World Series of Poker's $10,000, no-limit Texas Hold 'Em championship tournament in 2006. But what do we know about David Einhorn, the baseball fan (or player, or coach, or fantasy team co-owner)? Let's take a look.
• Einhorn said yesterday that he's "followed baseball all the way from my childhood, having watched hundreds or thousands of games over my life." His family moved from New Jersey to Milwaukee when he was a kid, and as we pointed out yesterday, in December The Wall Street Journal asked him about his baseball allegiances. His answer: "Between the Mets and Brewers, still Brewers, with a little soft spot for the Mets."
• As a kid in Milwaukee, he used to play softball in his best friend's backyard, and if they hit the ball "really hard," it would land in their neighbor's yard. That neighbor? Bud Selig.
• Unlike Fred Wilpon — whose boyhood pitching skills were detailed in a less-publicized part of that New Yorker profile — Einhorn wasn't a very good player. He didn't play beyond Little League, and once admitted that he has "no athletic ability."
• Surely, you've seen the photo by now, but when he was seven, he dressed in a homemade Dave Kingman jersey for Halloween.
• From a 2008 New York piece on Einhorn, in a section about how he doesn't do much outside the office except spend time with his family and play an occasional game of tennis: "I've got a fantasy-baseball team with my brother," he says. "But I have to admit, he does all the work."
• He serves as the coach of his daughter's Little League team.
• And on at least a couple of occasions, he's made reference to the world of baseball in his professional life. Also from that 2008 New York piece, we learned that in Greenlight Capital's first quarterly report to investors, he closed with a quote from Ken Griffey Jr.: "I don't consider myself a home-run hitter. But when I'm seeing the ball and hitting it hard, it will go out of the park." And just this Wednesday, after his presentation at the Ira Sohn Investor Conference, he began to walk off the stage, then returned to the podium to make one final statement: "One more thing: Go Mets!" That last part, of course, makes more sense now than it did on Wednesday.