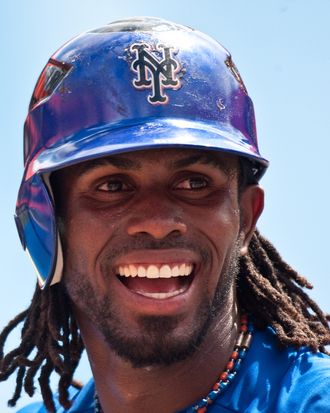 Photo: Ronald C. Modra/Sports Imagery/2011 Ronald C. Modra/Sports Imagery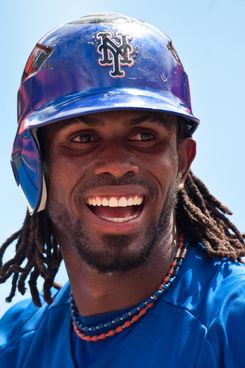 In next week's magazine, Will Leitch writes about the dilemma facing Mets management: keep shortstop Jose Reyes to keep the fans happy but lose out on all his trade value, or trade Reyes to restock the farm system but say good-bye to a Mets franchise staple. We asked Faith and Fear in Flushing's Jason Fry to give us his thoughts on the Big Decision facing the club.
I can accept that Carlos Beltran is certain to be traded; he's getting old, his knees are iffy, and he's been treated horribly by the Mets' dumber fans. And I get why the Mets would consider moving Jose Reyes. But I sure hope they don't. It would break my heart.
Jose Reyes's appeal is simple: It's incredibly fun to watch him play baseball. There are few things more delightful than watching a Reyes hit get past an outfielder and knowing what's coming. With most guys a ball up the gap means a double, and third base is an outside possibility if everything goes right. With Reyes, you assume it's a triple unless something goes wrong. Everything about it is joyous: the way he slashes at the ball with the bat, like he's hurrying to hit it so he can start running as soon as possible, the way he accelerates past first, the way he grabs third as he goes by and hangs on until he can drag his foot behind him, like a fighter plane catching a wire on a carrier deck, and then the sight of him clapping his hands harder than you or I have ever clapped our hands. Of course he's clapping his hands that hard; he's having more fun than either of us ever have.
I know Reyes isn't a perfect player — he's fragile and he doesn't walk enough and he waits aggravatingly long before trying to steal. But he's still a phenomenal shortstop and a really great hitter, and more than that he can make me throw back my head and laugh out of sheer giddiness at getting to watch him do what he does. Which actually gives me hope: I don't think the Mets will trade him. Sandy Alderson is aware of the fans and makes certain allowances for their feelings, and he's no fool. He knows the team he's trying to remake is bad, unlucky, and routinely horrifying to watch. Without Reyes, Citi Field will be down to masochists like me and fans of the visiting team.