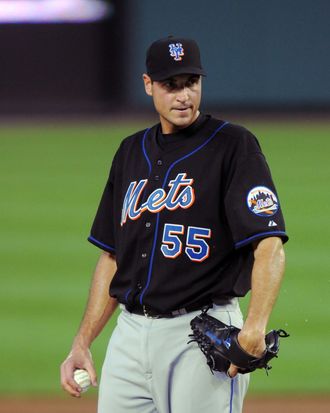 Photo: Mitchell Layton/2011 Mitchell Layton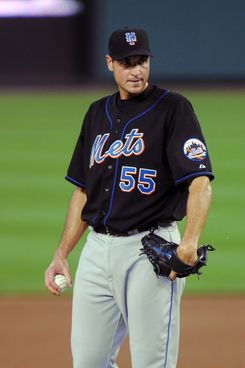 If you stayed up last night and watched the Mets' 2-1 loss to the Rockies last night, you fell asleep half expecting the roof to collapse on your head. It was one of those nights Mets fans asked the world to please stop kicking them already.
Three bad things happened to the Mets yesterday. We will list them in ascending level of damage.
1. The Mets lost. It was another frustrating one, and, as Jason Fry wrote last night, it was indicative of all sorts of other troubles the Mets are having. (Josh Thole isn't hitting, David Wright doesn't look right, people are stepping on rakes in the dugout.) The Mets are now 15-20, five games under .500. The Mets were five games under. 500 only once last season, at 77-82, on September 20.
2. Chris Young is probably out for the year. The tall drink of water who had a 1.87 ERA for the Mets in four starts has the same injury as Johan Santana, and it is very likely his Mets career is over. The Mets save some money on this injury, considering how his contract was structured, but they lose their best starter so far. Dillon Gee will take over his spot in the rotation, which had to happen anyway, but it's still not gonna make it that much easier to avoid going five games under .500 again, at some point.
3. Yep, Jerry Mejia is gonna be gone a long time. If baseball players could sue organizations for how their careers were handled, Mark Prior would have the best case, against Dusty Baker and the Cubs. Second place might be Mejia, who was jerked around by Jerry Manuel, Omar Minaya and the Mets the last couple of years and now will have Tommy John surgery. This was not unexpected after Mejia was diagnosed with an MCL tear last week, and it's possible it's not related to the old regime's Keystone Kops mishandling of Mejia, but still: It'll be until the end of 2012 that Mejia, the top prospect in the system for three years now, can do anything. Ick.
The good news? Still a 0.9 percent chance at the playoffs!