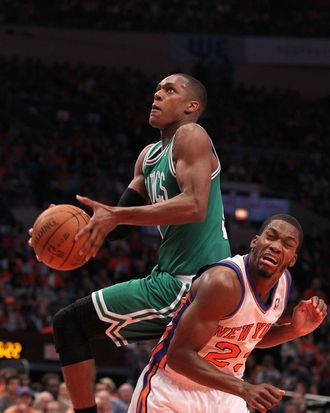 Photo: Nick Laham/2011 Getty Images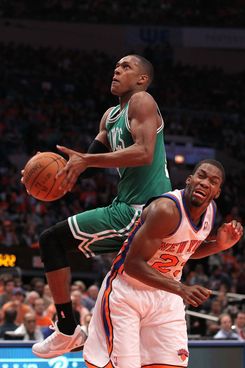 Toney Douglas had one terrific moment in the 2011 playoffs, a classic "Onions!" three-pointer in Game 1 against the Celtics, a shot that would have given the Knicks a 1–0 series lead if it hadn't been for Ray Allen and Kevin Garnett's right foot. Other than that, though, Douglas was rather dreadful, struggling on defense and completely out of the flow on offense. In fact, it sort of cemented Douglas's place in a lot of fans' minds: a nice complementary player to have, but not someone you can count on and not someone who should be starting. A change-of-pace, get-on-a-run guy, but that's it. But yesterday we learned that Toney might not have been the problem; the problem might have been a seriously gnarled right shoulder.
Douglas had serious surgery yesterday on that right shoulder, for a torn labrum. It's been hurting for a while:

The injury is believed to have originated from a hard hit Douglas took from Kevin Garnett in the preseason and Douglas said he would continually hurt it from time to time, especially while running through screens. It didn't stop him from hitting a team record nine three-pointers against the Memphis Grizzlies on March 17 at the Garden.
It started with a Garnett hit in the preseason? Whoa. It puts Douglas's season in its proper context: To become such a valuable piece with a damaged shooting shoulder speaks even better to how he'll be when 100 percent. (Though he's still not a point guard, sorry.)
Douglas will need "twelve to sixteen weeks" to recover from the surgery, which will have him back in plenty of time for training camp. Or, sorry, "when training camp would have been, had the lockout not postponed the season by months."
As frustrating as Douglas was in the playoffs, he's still generally liked by the fan base, and now that everybody knows he had a torn labrum, that'll remain the case. Now, if we can only come up with some sort of disease that Jared Jeffries had. We're going with vertigo. That's the only explanation.