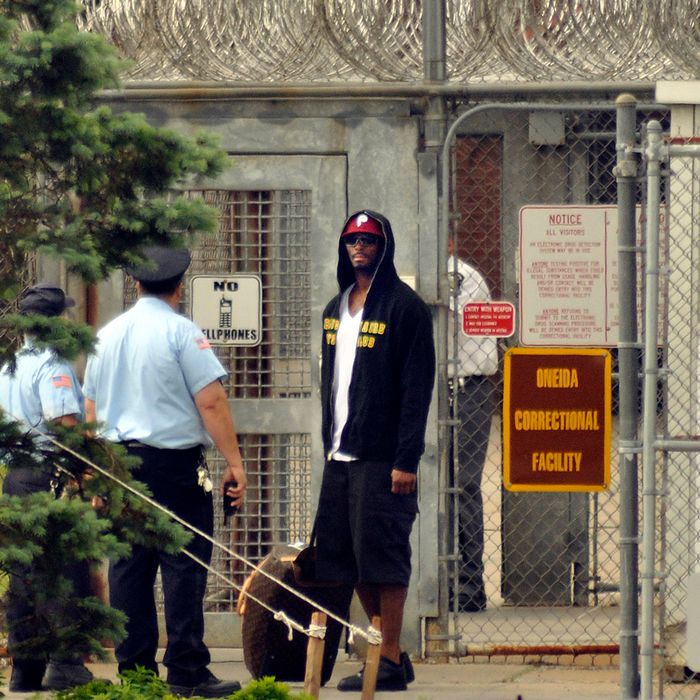 Photo: Heather Ainsworth/AP2011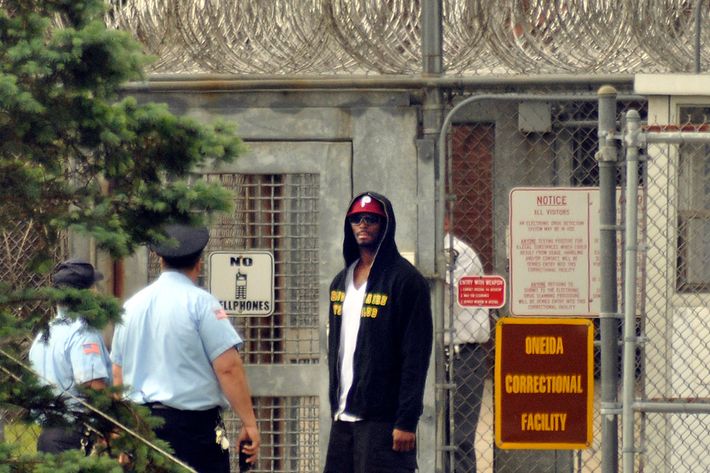 At 9 a.m., just after some morning fog dissipated, former Giants wide receiver Plaxico Burress emerged from the state prison a free man after serving 21 months for accidentally shooting himself in the leg at a New York nightclub. A scrum was waiting: cameras and TV news vans (the most prominent being the NFL Network and ESPN); Burress's agent, Drew Rosenhaus, in a black polo shirt and slicked-back hair with visible comb marks; three Giants fans from nearby Rome, New York. His release hadn't been expected until 11 or so; his wife, Tiffany, 4-year-old son, and 1-and-a-half-year-old daughter (born while Burress was in prison) hadn't arrived yet. He'd shortly meet them nearby.
Fields of healthy green grass surround the OCF, as the locals call it, and cow pastures and countryside lie just across the highway. The buildings are brick, pitched-roofed neocolonials. But for the coils of barbed wire topping the fences and the security cameras every hundred feet or so, it could be a community college. Burress's prison-sprung outfit looked like something a football star might wear to the airport, which is where he was headed, to catch a private plane with Tiffany to his home in south Florida: sunglasses, T-shirt, black zipped Billionaire Boys Club hoodie with rainbow lettering and a drawing on the back resembling a neon sign of a reclining cowgirl. (The hoodie was a particularly special sign of freedom: Even visitors are forbidden to wear them inside OCF.) His belongings all fit into one small roller suitcase. The Phillies hat he'd chosen to wear could have been a message to the city of Philadelphia, whose Eagles provided a home for released dog-fighting felon Michael Vick. Vick has already expressed interest in signing Burress.
Speaking to reporters, the ever-spinning Rosenhaus stressed how hard Burress, 33, had been working to stay in playing shape and noted his plan to start working with a trainer immediately. Rosenhaus's contact with teams has been limited by the current NFL labor lockout but he said interest was high. (He wouldn't mention specific teams.) "The interesting thing about the lockout is it's neutralized the field for him," Rosenhaus pointed out. "You know, no other wide receivers have signed … Outside of the teams that have drafted players, he will hit free agency at the same time as everybody else. We may have some time for him to get into even better shape. I'm expecting at least a month. And certainly he'll take advantage of that. Certainly by the time this lockout is over, by the time of training camp, he'll be in as good a shape as anybody else."
Rosenhaus also stressed the positive aspects of Burress's prison stint: He hasn't been injured or taken a crushing hit from a linebacker for two years, and he's by far a more mature man. "He knows that he obviously made a mistake," said Rosenhaus, "To miss two NFL seasons in the prime of your career, to not be with your family, most importantly, and to miss out on millions of dollars, these are things that have forced him certainly, to reevaluate his life, and we all would be a better person [after such an experience]. So there's no question that the teams that I have talked to certainly haven't really expressed any concerns in that capacity."
As Burress loaded his suitcase into a black Range Rover, Rosenhaus ran over to his star like a giddy kid and hugged him. "Are you ready? Are you ready?!" the agent enthused, before talking Burress into visiting the cameras for a hot minute. "I just want to make a brief statement," said Burress to the many microphones. "First of all, I want to thank God for bringing me through one of the most trying times of my life. It's a beautiful day to get to be reunited with my family, go home, spend some quality with them. I'd like to thank everybody for their prayers and words of encouragement. I'd like to thank all my fans, you know, all around the world, for their thousands of letters and for their unwavering support. And as far as football is concerned, if and when everything gets settled and they get back on the field, I'll be ready. God bless." A chorus of questions ensued, but Burress was done for the day.