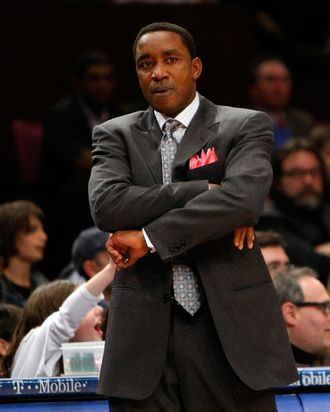 Photo: Nick Laham/2008 Getty Images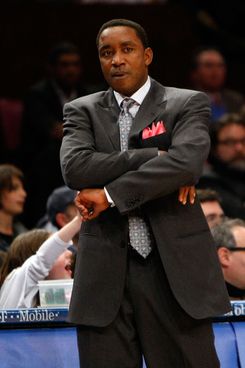 Even when Isiah Thomas says something Knicks fans want to hear these days — "I have no desire to return as president of the Knicks," for instance — there's too often something else ("Never say never about anything") that gives them reason to think that he could somehow wind up running the Knicks again one day. Jim Dolan's reportedly been convinced that hiring Isiah wouldn't be wise, but you can't blame Knicks fans for fearing the worst.
So here's a report about Isiah Thomas maybe being considered for an NBA job that Knicks fans can read without a therapist on hand: Chris Broussard reports that Thomas is on the Pistons short list of candidates to fill their vacant head coaching position. The Pistons! As in, a team that's not the Knicks! Now, a couple of things about this report, which you can take with a grain or three of salt if you'd like: According to Broussard, he's not the leading candidate. (Mike Woodson, Kelvin Sampson, and Bill Laimbeer are also reportedly on the list.) And two sources tell the Post that Thomas won't be considered by Pistons president Joe Dumars because Dumars doesn't want to jeopardize their friendship.
It's worth remembering that in Detroit, Thomas is still beloved as a Hall of Fame point guard and member of the back-to-back champion "Bad Boys" Pistons. (Watch this video if you don't believe us.) But his track record since retiring is, shall we say, something less than Hall of Fame worthy. (Pistons fans surely know this as well as anyone.) We doubt he'll actually get the job, mostly because we can't really imagine anyone other than Jim Dolan giving Thomas a job in the NBA. But to quote Zeke himself: Never say never about anything. You can have him back full-time if you want him, Detroit. But we doubt that you really do.