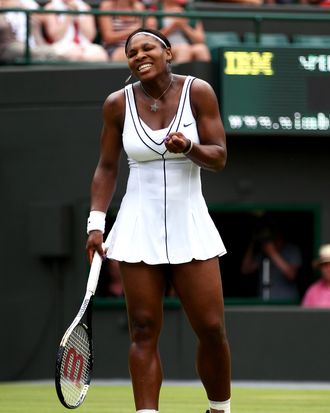 Photo: Clive Brunskill/2011 Getty Images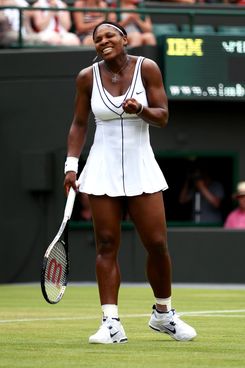 The queens are dead: Venus and Serena, winners of nine of eleven Wimbledons this millennium, have fallen. For the first time in five years, neither will be in the quarterfinals at the All England Club. Their routine had become so familiar it was easy to take for granted: Skip the grind of the tournament circuit to play fashion designer (this year, of course, Serena was recovering from injury); shrug off plummeting WTA ranking and humble tournament seeding; sashay to Center Court glory. Their sudden absence leaves one looking around in a daze. Who's left?
Good question. Caroline Wozniacki, top seed and world No. 1, also lost yesterday, the latest capitulation in a Slamless reign built on air. Li Na, feel-good story of the French, who was supposed to be even better on grass, reverted to paper tiger. Overhyped also-rans — Jankovic, Ivanovic — litter the landscape of early exits. That leaves Maria Sharapova outermost among endless nesting dolls of lesser names, but it's hard to shake the sense that with her the brand has consumed the player.
Some commentators are seizing on the Williamses' premature exit as possible evidence of a changing of the guard at the pinnacle of the women's game, but this state of affairs suggests not so much a broadening of the base of potential No. 1's as a power vacuum unable to be filled. In the early days of the sisters' dominance there were worthy foils aplenty: Hingis, Henin, Davenport, Clijsters, Capriati, an elite of the elite whose prolonged rivalries sustained the drama of the women's game the way the aristocracy of Nadal, Federer, Djokovic, and arguably Murray and Del Potro now does on the men's side. Could the beginning of the end of the Williamses' reign on grass betoken a democratic revolution from below? Given the pretenders, I say let them eat cake.
Update: In quarterfinal action today, fifth-seeded Sharapova defeated Dominika Cibulkova in straight sets and will face wild-card Sabine Lisicki — who eliminated ninth seed Marion Bartoli — in the semifinals. On the other side of the bracket so far, No. 8 seed Petra Kvitova defeated Tsvetana Pironkova to advance to the semis for the second consecutive year.