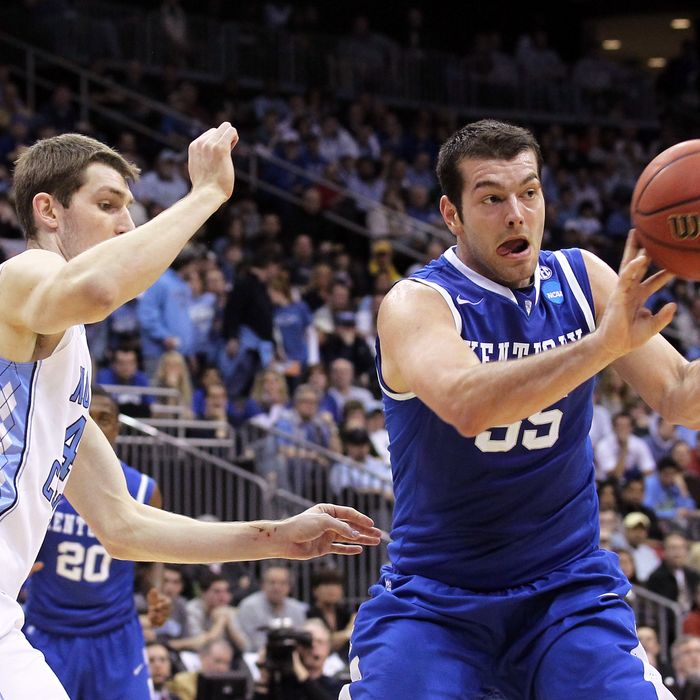 Photo: Nick Laham/2011 Getty Images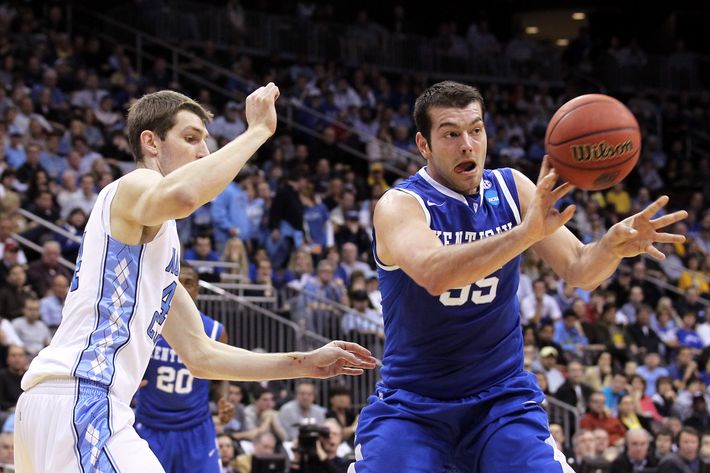 Some of the fun might have been taken out of the yearly "boo the Knicks' draft pick" tradition at the NBA Draft last night, considering it was not held at the Garden (it's under construction, remember) but instead at Newark's Prudential Center. This didn't stop ESPN from constantly talking, before the pick was made, about how Knicks' fans would react, even though the draft was being held in another team's home arena. It's tough being the Nets. Anyway, when the Knicks' first-round pick, Georgia Tech's Iman Shumpert, was announced, there were indeed boos, and ESPN immediately went to Noted Draft Expert Spike Lee, who admitted he had no idea who Shumpert was. That kind of analysis you just can't beat. Lee, in on the joke, admitted he hadn't known who Landry Fields was either. The ESPN reporter interviewing him apparently still hadn't; she referred to Fields as "Carl Landry." The NBA Draft is such a silly fun thing to watch.
The Knicks added two men to their roster last night: Shumpert, and Kentucky center Josh Harrellson, heretofore called "Jorts." Here's what ESPN's Chad Ford wrote about each after their picks last night:
First, Shumpert:

The Knicks bought this pick from the Hornets. The Knicks need size, and Harrellson has that. But he's a pretty big project, too. I doubt coach Mike D'Antoni will give him minutes. Then again, lacking big men, D'Antoni might not have a choice.
And, Harrellson, whom the Knicks bought for $700,000, taking him with the 45th pick acquired from New Orleans:

The Knicks bought this pick from the Hornets. The Knicks need size, and Harrellson has that. But he's a pretty big project, too. I doubt coach Mike D'Antoni will give him minutes. Then again, lacking big men, D'Antoni might not have a choice.
Ford ended up giving the Knicks a B-. But we'll let Seth come in and talk about how this affects the Knicks a little later. Right now, let's get to know these guys.
Iman Shumpert. The best way to be introduced to Shumpert is probably not ESPN's Eamonn Brennan's baffled "that guy is a first round pick?" post yesterday, noting that Shumpert was an incredibly frustrating college player for Georgia Tech, a guy with all kinds of talent but little actual production. But let's shake that off and think about the happy stuff, all the things he could do.
Shumpert notched the highest vertical leap anyone has put up at the Chicago draft combine since 2007, and you'll definitely hear bunches about his wingspan, which has to have been the word most spoken at the draft last night, other than perhaps Stu. Shumpert isn't much of a scorer, but he's a decent passer and a terrific defender; no point guard wants to be guarded by a quick guy who is six foot six.
He also has the same agent as Amar'e Stoudemire, which might have had something to do with the pick as well. He also raps, sort of. If you want to get excited, here is a video of only his good plays.
Josh Harrellson. JORTS JORTS JORTS. Seriously, his nickname is Jorts, as in tight jean shorts. He is so associated with jorts that March 1, 2011, was Jorts Day at Kentucky this year.
Considering all this talk of jorts, it should come as no surprise that Harrellson is near St. Louis and played basketball in central Illinois. Harrellson's journey to the NBA is about as unlikely as anyone's in the draft. The first year he ever played organized basketball was 2003, as a freshman in high school, and he has said he didn't learn how to dribble in 2004. (He will rarely be required to dribble on the Knicks.) He grew six inches in high school and signed a letter of intent with Western Illinois, but when their coach was fired, he asked to be let out of the commitment; the Leathernecks (the actual nickname of Western Illinois) wouldn't let him go to another Division-I school, so he played junior college at Southwestern Illinois. Being six foot ten, he dominated junior college and ended up transferring to Kentucky.
Now, he wasn't transferring to John Calipari Kentucky: He transferred to embattled Billy Gillispie. When Calipari took over after Gillispie was fired, he (understandably) had little use for a slow, lurking hick in jorts. But Harrellson impressed Calipari enough to let him stay on the team, though his junior year, he played a total of 88 minutes.
Last year, though, Harrellson was one of the Kentucky's few constants (thanks largely to the NCAA not allowing Enes Kanter, the draft's third overall pick last night, to play for the Wildcats), and he ended up, improbably, dominating Ohio State's Jared Sullinger in the NCAA Tournament and helping lead Kentucky to the Final Four. His main attribute is that he is tall and big. And that he wears jorts. And that Kentucky fans regularly compare him to Mose Schrute.
Here are some Jorts highlights:
(The heavy-metal soundtrack means he's awesome.)
So: Welcome, new Knicks! We hope David Stern allows you guys to actually get on the floor and play a game sometime.