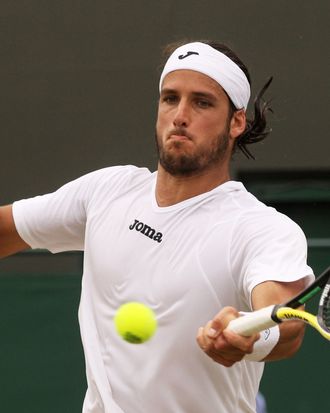 Photo: Oli Scarff/2011 Getty Images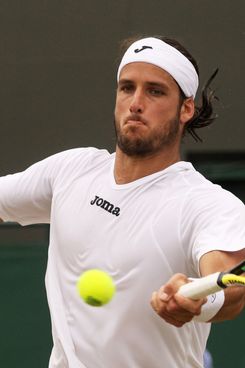 Today the top four men's seeds square off against underdogs ranging from the greenest of teens to genuine top-ten contenders. All American eyes will be on Mardy Fish, who will be looking to cap a surprising renaissance by taking out defending champion Rafael Nadal. All other eyes will be irresistibly drawn toward Feliciano López, the Spanish dreamboat whose match with Andy Murray, Great Britian's great white hope, also promises to be the most competitive contest of the day.
López, a 30-year-old lefty who's never been ranked higher than twentieth, often gets lost in the shuffle of Iberian greats of recent vintage (Nadal, Ferrer, Ferrero), but he was the first Spaniard in 33 years to make the quarters at Wimbledon when he did so in 2005. His absurd handsomeness ("Roman god-like," in the words of Judy Murray, Andy's mother) may be partly to blame; it's certainly been a consistent distraction so far this fortnight: Commentator Justin Gimelstob twitted López for "lov[ing] to look in the mirror" and called attention to his "great body" during a match preview. López, citing a lack of respect, responded with an angry tweet. Speaking of Twitter, the coinages of helplessly smitten Judy, who's divorced, have been the talk of the twittersphere ever since she baptized Feliciano "Deliciano" and Wimbledon "FeliFest," among other mortifying squeals.
Wimbledon purists, meanwhile, have taken to swooning over López's game, as effortless as his good looks, after his casual demolition of Andy Roddick in straight sets in the third round. Of the eight quarterfinalists, López's fluid style is the most reminiscent of that of classic grass-court serve-and-volleyers. This has made him the darling of those who maintain that the All England Club's switch to all-rye grass in 2001 fatally compromised the art of the net game by slowing down the ball and increasing its bounce, effectively putting it on a platter for the passing shots of the game's legion of baseliners. (For an expert take on the legacy of Wimbledon's fateful switch, see Steve Tignor's Concrete Elbow blog at Tennis.com.) All of which makes López the ideal foil for Murray, a stay-at-home counterpuncher, though it remains to be seen if the Spaniard will tempt fate by adopting an aggressive approach against one of the game's best passers.
In a poignant irony, four years ago López played matador to Tim Henman, waving the cape for one last weary Wimbledon charge by that purest of the old-school serve-and-volleyers. It was Henman's final match, and his breed promptly went the way of the passenger pigeon. If today Murray manages a measure of patriotic revenge, in another sense it will be just another nail in the stylistic coffin.