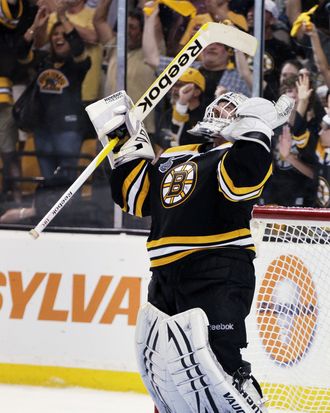 Photo: Elsa/2011 Getty Images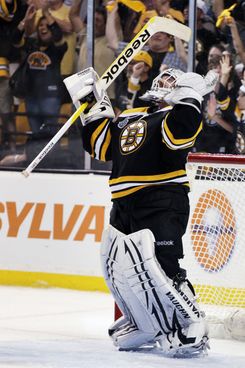 Before last night's Game 4 of the Stanley Cup Finals, referees were instructed to penalize players who taunted an opponent by wagging their fingers in front of the opponent's mouth, a reference to Alex Burrows's bite from Game 1. The third game of the series had devolved into such a chaotic string of taunts and other after-the-whistle activity that it distracted from what the Bruins had done, which was to rout the Canucks team that had beaten them late in each of the first two games. It was compelling stuff, but the league had already dropped the ball once by allowing Burrows to skate in Game 2; they had to do something to try to keep the Finals — their biggest showcase of the year — from continuing like this.
Things once again got chippy in the final moments of last night's Game 4 — 46 penalty minutes were handed out in the final three minutes of the third period — but the focus today should be on what the Bruins have done to the Canucks and Roberto Luongo over the past two games. They won 4–0 last night and outscored the Canucks 12–1 in the two games at the TD Garden. The Bruins didn't just hold serve; they completely stole the momentum of the series and raised questions (fair or not) about Roberto Luongo's performance in big games. (Luongo was pulled in the third last night, though it should be noted that his defense is falling apart in front of him.) Yes, we'd say that Boston sports fans had a pretty good night last night.
Game 5 is in Vancouver tomorrow night — unlike the NBA, the NHL continues its 2-2-1-1-1 format straight through the finals — and the Bruins won't have any pregame salutes from Bobby Orr to Nathan Horton to fire them up in that one. They'll need to win at least one game on the road in this series, but they've got the hotter goalie right now by a mile. (Tim Thomas, incidentally, may never take a more gratifying penalty than he did when he slashed Alex Burrows late in the third period, after Burrows chopped the stick out of his hands moments earlier.) Bite-related taunting may have come and gone, but there's still plenty of bad blood between these two teams.