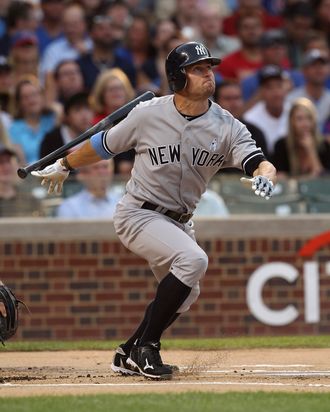 Photo: Jonathan Daniel/2011 Getty Images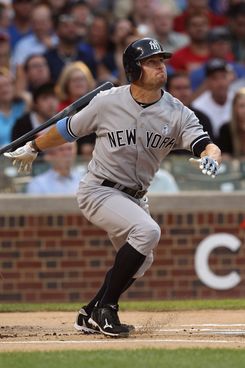 During last night's Yankees-Cubs game, Bobby Valentine suggested that when Derek Jeter returns from the disabled list, the Yankees might be better off batting him ninth, allowing Brett Gardner to remain the leadoff hitter. You'd be wise not to hold your breath for that exact scenario to play out — even if the Yankees do drop Jeter in the order, he doesn't necessarily have to fall all the way to ninth — but Valentine's suggestion wasn't so much a comment about Jeter as it was about Gardner. When Jeter went on the disabled list, the natural reaction was to turn our attention to his replacement at shortstop, since these two weeks are a big opportunity for Eduardo Nunez to prove what he can do when given the chance to play every day. But perhaps it's Gardner who has the real chance to show he deserves increased responsibilities.
Last night, Gardner — batting leadoff — collected three hits, including a home run and a double. He's 10-for-20 with three walks since Jeter went on the disabled list, including a game-winning hit in last Thursday's twelve-inning win over Texas. That's a small sample size, of course, but via Pinstripe Alley, he's hitting .344 with a .422 on-base percentage since April 23. And after a slow start — he was just 6-for-53 through his first fifteen games — Gardner leads all Yankee regulars with a .294 batting average and a .372 on-base percentage on the season.
Which is a long-winded way of saying: Gardner is putting together a very nice year offensively, while Jeter is on pace for the worst offensive season of his career. That said, even with Jeter on the disabled list, Gardner hasn't earned the everyday leadoff spot: In three games against left-handed starters since Jeter went down, Gardner has batted eighth once and didn't start twice. Joe Girardi seemed open during spring training to batting Jeter in the leadoff spot against lefties and using Gardner in the leadoff spot against righties — but that was before Curtis Granderson gained a stranglehold on the No. 2 spot in the batting order.
But that's what makes this a perfect opportunity, at least from a public-relations standpoint, for the Yankees to experiment with batting Jeter lower in the order in the coming weeks, at least sometimes. The first time the Yankees drop Jeter from one of the first two spots, it'll surely grab headlines. But it's an inevitable move: Jeter isn't likely to bat leadoff for the next three and a half years. And batting him somewhere other than the first two spots at some point in the next few weeks, at least against right-handed starters — could be sold to fans not necessarily as punishment for Jeter, but the result of Gardner and Granderson earning more responsibility at the top of the order. (And, really, that would be the truth, too.) The best time to make the move isn't when Jeter is hitting so poorly that the Yankees can no longer afford to bat him first; it's when someone like Gardner is hitting so well that they can't afford not to bat him higher in the order.
We've written before that Brian Cashman has a lot of delicate decisions to make as the likes of Jeter and Jorge Posada grow older. This is one of those situations. To a certain segment of the fan base, Jeter will always be the 26-year-old who won the 2000 World Series MVP. Convincing those fans that Jeter should bat, say, seventh will be tricky — and the last thing the Yankees want is a full-blown tabloid-and-sports-talk-radio "controversy."
But the coming weeks — say, after Jeter gets his 3,000th hit, so as not to distract from the milestone — would seem as good a time as any to experiment. It wouldn't necessarily be a full-time move: Given Girardi's preseason comments about a possible platoon situation, and his hesitance to bat Gardner leadoff against left-handed starters even in Jeter's absence, it wouldn't be a surprise to see Jeter keep leadoff duties against lefties. But it could be the start of a gradual process. Having said all that: A lot of this hinges on Gardner continuing to impress. After all, dropping Jeter in the order, even sometimes, will go over a lot better if his replacement in the leadoff spot gives fans something to cheer for.