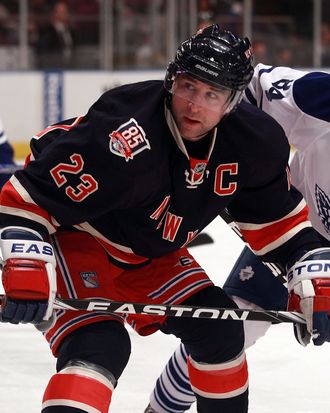 Photo: Bruce Bennett/2011 Getty Images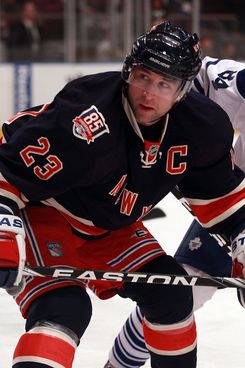 First came word that the Rangers would buy out Chris Drury's contract — which triggered memories of his arrival in New York and the expectations that came along with it. Then came reports that an injury could prevent the Rangers from buying out his contract and could possibly even prevent him from playing again. But today brings the true final chapter of Chris Drury's Rangers career: The team has indeed bought out the final year of Drury's contract. There's a press release now and everything.
Drury, as you'd expect, is leaving on a classy note. From the Post:

"It was a great honor and privilege to be a New York Ranger for the past four years, and I will always be grateful for the opportunity to fulfill that childhood dream," Drury said in a statement that was sent to The Post by e-mail. "The Rangers are a first-class organization with great people in the hockey, public relations, team services and community relations departments.

"I would also like to thank Ranger fans. They always inspired me to do the best I could in whatever role I was asked to play. Playing before them in the Garden was a thrill of a lifetime. I wish all the fans and the entire Ranger organization the best of luck in the future."
We've written before that Drury was undoubtedly as frustrated with his performance in recent years — and with the injuries that kept him off the ice for much of last season — as Rangers fans were. And make no mistake: Fans, including this one, were disappointed. (Via Puck Daddy, Drury's goals-per-game average before joining the Rangers was 0.307; with the Rangers, it dropped to 0.235. His points-per-game average, meanwhile, dropped from 0.739 to 0.572.) But today isn't cause for celebration. We wanted nothing more than to see the kid from Connecticut deliver the Stanley Cup for the team he grew up rooting for. And though those 2007 expectations may have been unrealistic, it's been a disappointing couple of years nonetheless. If nothing else, Drury's buyout should serve as a reminder to Glen Sather how a free agent signing can go wrong in the post-lockout NHL.
Speaking of free agency, Larry Brooks reports that Drury will seek to continue his career — so perhaps his days in the NHL won't end on such a low note, after all. "Chris is a consummate professional, a tremendous competitor and an even better person," said Sather in the Rangers' announcement of the buyout. "He gave his heart and soul to the Rangers organization in his time here and we wish him the best in his future endeavors." Rangers fans should wish him well, too.
Drury's Rangers career ends today [NYP]
The official Drury buyout announcement [Rangers Report/Journal News]