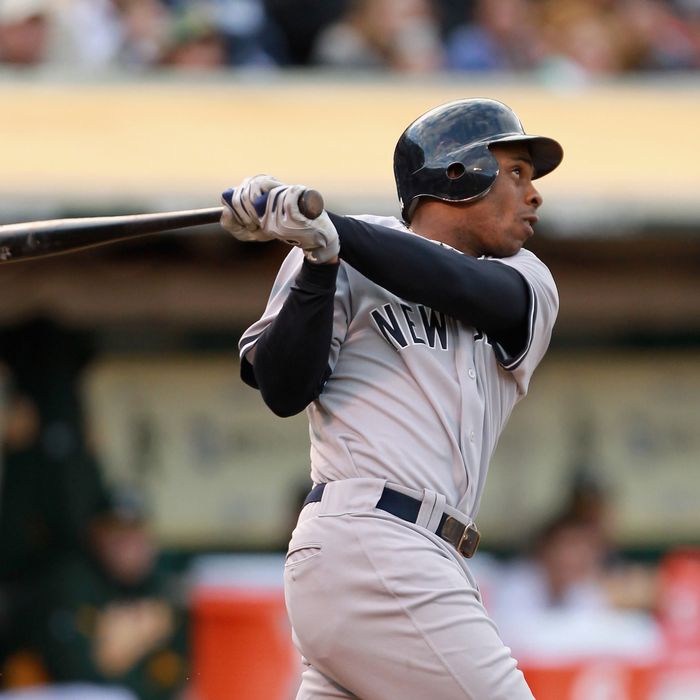 Photo: Ezra Shaw/2011 Getty Images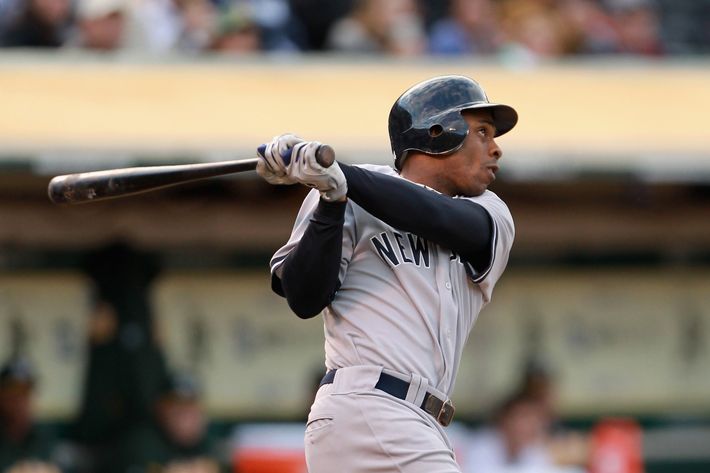 The first two months of the Yankees season have brought both surprises (Bartolo Colon) and disappointments (Nick Swisher), and games against lefties these days tend to showcase one of each. Last night, facing a left-handed starter (and a good one, no less), the Yankees beat the A's, 10–3. Curtis Granderson had a big night. Jorge Posada didn't get the chance.
Let's begin with Granderson, who last night collected three hits, including his seventeenth home run of the year and a two-RBI double to give the Yankees a comfortable 5–1 lead. That first inning home run came off southpaw Brett Anderson, and it was his ninth of the season against a left-handed pitcher. (By comparison, he has eight home runs against righties this year — in 80 more at-bats.) To put this in some context, he's never hit more than five home runs against lefties in a single season. (And to put last night's homer in context, Anderson hadn't allowed an extra-base hit to a lefty all season, and hadn't allowed a home run to one since August 25, 2009.) Granderson — a career .223 hitter against lefties — is batting .323 against them this year. Granderson can probably stop checking the lineup sheet every day, regardless of which arm that day's pitcher uses to throw.
Meanwhile, Jorge Posada sat again yesterday — unsurprising considering he's hitless in 27 at-bats this year against lefties. If every Granderson home run off a lefty reminds Yankees fans what a fine season the center fielder is having, every game Posada sits against a lefty serves as a reminder that the career Yankee has just about reached the end of the road. Joe Girardi didn't use the word platoon yesterday, but he might as well have: Posada hasn't started against a lefty since May 7. Posada entered this season with a diminished role — that of designated hitter, instead of catcher — but it's only been diminished further over the past two months, as he's become something of a part-time DH.
But let's not end on that note. After all, Freddy Garcia — current ERA: 3.34 — has been a pleasant surprise this season as well, and last night he threw seven solid innings to earn his fourth win. The Yankees sit atop the American League East today, the first day of June, even if their lead isn't particularly large. (Boston sits one game back, Tampa Bay is a game and a half back, and Toronto is just three games out. Baltimore — the only team under .500 — is six back in fifth.) They've won three in a row now and go for the sweep behind A.J. Burnett this afternoon. On the mound for Oakland: lefty Gio Gonzalez. Jorge Posada isn't expected to be in the starting lineup today. There's little doubt, however, that Granderson will be — batting second. He can probably get used to that now.