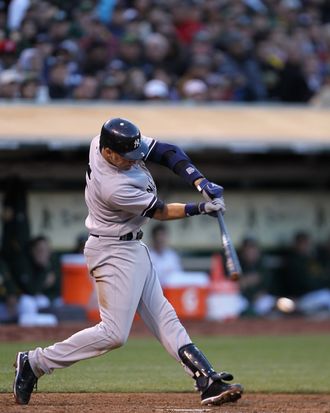 Photo: Ezra Shaw/2011 Getty Images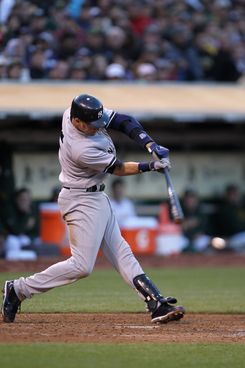 Once a week until Derek Jeter gets his 3,000th hit, we'll take a quick and dirty look at which game we anticipate he'll get it in, based on his 2011 numbers to that point. Obviously, buy tickets (or fly to some random city) at your own risk, especially since a lot can change in the coming weeks: Jeter could get hotter or colder, games could be rained out, he could get more frequent days off, or be dropped in the batting order, or get hurt, or whatever. But just for fun …
• Jeter has 57 hits through the Yankees' first 53 games this year (which doesn't include this afternoon's game against Oakland), or 1.075 hits per team game.
• Jeter has 2,983 career hits and needs seventeen more to get to 3,000.
• At this rate, it'll take sixteen team games to get there.
• And so at this rate, he'll get to 3,000 on June 18 at Wrigley Field. Jeter had a really good week last week, going 8-for-23 (.348) in the six games from last Wednesday through last night. If, hypothetically, he kept up that pace for the next two weeks, he'd get to 3,000 in just thirteen more games, which would allow him to do it at Yankee Stadium on June 15 against Texas, in the penultimate game of a homestand that begins next Tuesday. But if he cools off and continues at the pace he's set over the first 53 games, he'll get there the following Saturday at Wrigley Field. Just like last week's projection, he'd miss getting to 3,000 on Father's Day by a game.
Previous projections:
5/25: June 20, vs. the Reds
5/18: June 24, vs. the Rockies
5/11: June 17, vs. the Cubs
5/4: June 28, vs. the Brewers